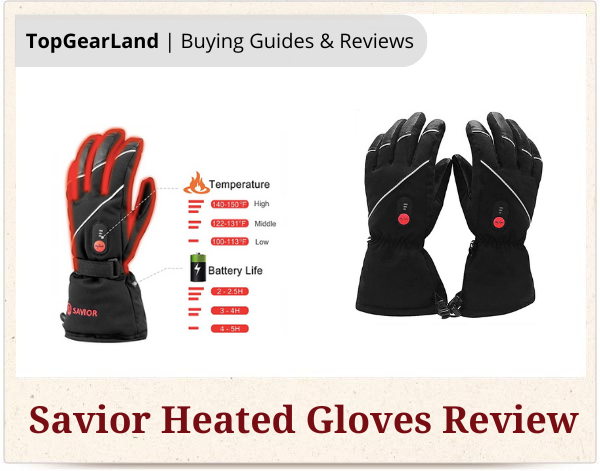 Welcome to my review of Savior heated gloves for winter 2023!
---
Look:
Recently I created a guide on the best photography-optimized gloves, but I know that many of the cold weather photographers are also avid winter sports enthusiasts.
So, this gave me an idea to review battery/electric heated gear on this website as well. And today, we'll be talking about one of the most popular battery powered hand warmers this year – Savior HEAT gloves (for men & women).
Let's get started.
---
Savior Heated Gloves: Summary
Quick Specs:
Materials: 60% Polyester, 40% Leather
Heat Setting: 3 levels ( low, med, high)
Battery Life: up to 6 hours
Heat Coverage: back, entire fingers
Weatherproof: Yes
Best For: Motorcycle, skiing, other outdoor winter activities
Gone are the days when you need to wear ultra thick winter gloves to beat the cold weather outdoors.
When side from being bulky, those warmers limited dexterity. Remember how you could barely do anything with your hands when you wore those? However, back then all those extra layers were a necessity to survive harsh winters.
But that's all in the past now…
With the recent introduction of battery powered heated gear, you no longer have to wear those super thick hand warmers again.
Though these new warmers are a tad thinner than regular ones, they are also a lot warmer. The reason behind this is the presence of electronic heating elements inside the product.
And the Savior brand is actually my top pick in the list of the best battery heated gloves, because it provides you with the great quality and warmth you need, at a fairly affordable price.
---
Savior Battery Heated Gloves: Key Features
It's about time we talk about the different features you can find in this pair of thermal gloves. Some features are unique to Savior, while others are common in popular counterparts as well.
Let's get into it, shall we?
---
Design and Construction
Design-wise, this product from Savior is amazing. It's not too thick, allowing you to still move your hands and fingers while using the pair. Also, it's not too thin so even without turning the heating elements on, your hands will still feel warm.
As for it's construction, they also did a pretty great job in making this pair breathable and weatherproof at the same time. The outermost layer is made up of 40% lambskin leather and 60% polyester.
These materials are known to be sturdy so the gloves are meant to last longer than just one winter season (but lifespan of the product might be lower for those you use it everyday for extreme winter activities).
READ ALSO: Best Battery Heated Jackets This Year!
The interior is made up of a soft fleece-like fabric so your hands will stay as comfortable as it should be. This material is highly breathable so it helps wick away moisture. No one wants to have sweaty hands on a cold winter day, for sure.
Adjustable Wrist Cuffs
This is another notable feature seen on this Savior heated product.
It has a special velcro buckle on each wrist so that you can adjust it to your liking. This will ensure that no snow or water gets into your gloves while engaging in any outdoor winter activities.
And as if that's not enough:
The hems also come with adjustable pull up strings so you can fasten the pair safely into your jacket sleeve. This is an added protection against cold wind and water. This will also ensure that the gloves stay snugly fit to your hands and arms.
Instant Heat System Plus 3-Level Temperature Control
The three level temperature setting is common among heated winter gears today. What makes Savior's unique is that the highest level can reach up to 150F!
With this pair, you can choose from low, medium to high heat levels. The lowest can go from 100 to 113F, and that's warm enough to make you last a day outdoors on normal cold days. If your hands easily get cold, you may choose the medium setting with temperature ranging from 122 to 131F. And on extremely cold days, you can turn it up on the highest level to keep your hands toasty and nice.
It gets better:
Savior supports instant heating technology. This means the moment you turn it on, it heats up in as quickly as 30 seconds.
Wide Heating Coverage
Some products only heat the back of the hands, while others only cover the base of the fingertips. But with this pair, your entire hands are covered. The warmth reaches even up to the tip of your fingers, so there's no room for your hands to feel cold.
---
---
Battery Life
Savior electric heated gloves have decent battery life. At the highest temperature level, you can enjoy ultra warm hands for about 2 hours and 30 minutes. If you want the batteries to last longer, then setting it at the lowest level will give you up to 6 hours run time.
Unisex
It's hard to find a product that fits both men and women. There's a big difference between sizes and style preferences depending on the gender, naturally. But Savior made this pair so neutral (in terms of design) that it looks good on anybody. It utilizes black and red colorway which also matches well with any outfit.
And of course, this product's sizing follows the standard. So for women, you might want to order a size lower for a better fit. Or better yet, check out the sizing chart provided by the manufacturer.
Weatherproofing Capabilities
It's not enough for gloves or mittens to give you warmth and comfort when staying outdoors. It's also important for a pair to protect your hands from rain, snow, and cool winter breeze. Savior thermal gloves offer this kind of protection by making the warmers wind and water proof.
Just a reminder though.
The product might be labeled as waterproof but it doesn't mean you can submerge it into water intentionally or have it drenched in the rain for a long time. Under these circumstances, even with the gloves on, there's a high chance your hands will still get wet and cold.
Even after checking out the key features of this product, you might still have some hesitation and that's totally normal. Let me help you clear some of those lingering doubts by laying down the things I personally liked and disliked about this pair of hand warmers.
Where to Buy Online?
---
Savior Heated Gloves Review: Final Thoughts
Savior heated gloves are great for its price. It's not too expensive and offers a lot of useful features. Also, it's one of the few outdoor winter gear that allows for better dexterity, so you won't have any trouble gripping the objects you need while outdoors.
Though the batteries are not that long lasting as others, it still performs well even in the coldest of days.
All in all, this product is worth the consideration.
==> Check the exact price on Amazon.