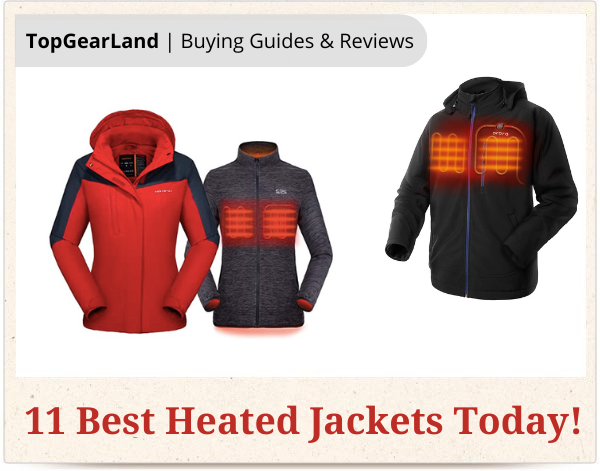 List of the best-heated jackets for men & women in 2024 winter.
---
Winter activities are pretty exciting, but they can also be very demanding.
You have to wear the right clothing and gear to be able to bear the extreme cold weather during this time of the year. Vests, gloves, winter boots, and thermal socks are just a few of the things you need to prepare to enjoy this season.
So today, I will be sharing with you the best-heated jackets for the 2024 winter season.
To speed your research up:
(Read until the end of the post because I also shared buying guide and FAQ.)
Best Battery Heated Jackets for Men
Materials: 93.5% Polyester and 6.5% Spandex Shell, 100% Polyester Lining
Heat Settings: low, medium, high
Battery Life: up to 10 hours
Heated Area: right and left chest, mid-back
Best For:  Skiing, Alpine climbing, fishing
Wind Resistant: Yes
Water Resistant: Yes (not waterproof though)
Whether you like outdoor activities during winter, or just don't want to feel too cold this season, wearing the right gear will get the job done for you.
The good news is:
You no longer need to put on layers of thick padded clothing to keep yourself warm this winter season. What you need is a heated jacket that will make you feel toasty and dry even when staying outside for a long time.
This Ororo product for men promises to provide warmth all throughout the body so the cold can become more manageable than ever. It is a great gear for skiing and other winter sports. (Read my full review here.)
Key Features:
This is one of the best features you can find in a battery-powered thermal jacket. Even if it has built-in electronics between layers of fabric, it is still safe for machine washing. Just remember to take out those battery packs before throwing them out to the laundry.
This feature makes Ororo outerwear products unique. It comes with a hood that you can attach or detach whenever you feel like it. Design-wise, it's also a smart move by the brand to make this product stand out more since other rivals rarely have it.
This detachable hood provides more protection for you (especially around the neck and head area) when it's unusually cold outside. Though it doesn't have a separate heating element, it still works well at insulating those body parts. Plus, it protects your head from rain and snow.
As I've mentioned above, this winter jacket is wind and water-resistant. Its sturdy outer shell is made of high-quality polyester so it's naturally robust. It works well even when exposed to extreme cold or abuse.
3 carbon fiber heating system
Another thing that makes this product worth investing in is its smartly placed heating elements. It has one on the middle back portion (which is very susceptible to cold) and one on each of the front chests.
Where to Buy Them Online?
This product is available on Amazon and/or The Warming Store.
Materials: 100% Polyester
Heat Settings: high, med, low ( 100F to 131F)
Battery Life: 10 hours
Heated Area: neck, back and chest
Best for: ski touring, fishing, biking, winter sports
Windproof: Yes
Waterproof: Yes (water resistant)

✓Reasons to Buy:
Slim design
Breathable layers
Windproof
Built-in LED torch light

✗ Reasons to Avoid:
A bit bigger than your true size
The battery takes a while to charge
Have you ever dreamed of going out in the snow without wearing ultra-thick clothing? Well, this might just be the perfect product for you.
At first glance, VentureHeat Outlast 2.0 looks like a regular one. It's not padded so it doesn't look as bulky as your other winter jackets.  In fact, it has a slim and lightweight design perfect for any season.
Key Features:
While there are already a lot of washer-safe electric-powered outerwear products, not many are fit for tumble drying. However, Outlast 2.0 is different. You can wash and dry it as you would for normal winter clothing.
This is actually great news. You don't have to wait long hours to dry this garment. It means you'll be able to use it as much as you want.
Believe it or not, the size of the heating elements in a thermal jacket matters a lot. The bigger your heating panels are, the larger the area it heats up. This means the garment will warm a larger portion of your body, and ensures that you can take on any outdoor winter activities without much problem.
Outlast 2.0 definitely has larger heating systems located at the chests, back, and neck. These areas usually get cold easily, so VentureHeat made sure to prioritize it with the carbon fiber heating systems.
Normally, large heating systems would mean shorter battery life. However, that's not the case with VentureHeat's Outlast 2.0. Despite having large carbon fiber heaters, it still has a decent battery life.
At the lowest heat setting (100F), VentureHeat Outlast 2.0 can last up to 10 long hours. At medium, you can use it for about 6 hours. If you want to turn on the highest heat setting at 131F, it can last only up to 3 hours.
Premium design and construction
I couldn't help but commend the smart design and construction of Outlast 2.0.
Although its exterior is made entirely out of polyester material, it still feels good from the inside. That's because of the soft fleece lining attached inside the jacket. Aside from that, there are added layers of insulation to ensure that heat stays inside, keeping you ultra warm while wearing it.
Where to Buy Them Online?
This product is available on Amazon and/or The Warming Store.
Materials: Polyester/Spandex
Heat Settings: 3 levels
Battery Life: 8 hours
Heated Area: Chest, back, lower pockets
Best for: Cold weather outdoor activities (sports or work)
Windproof: Yes (resistant)
Waterproof: Yes (resistant)

✓Reasons to Buy:
Heating panels can be individually controlled
Robust build
Premium quality materials
Battery storage is expandable
Dryer safe
Heats up quickly

✗ Reasons to Avoid:
Might be bigger than the true size
Quite pricey
The batter pack placement might be a bit uncomfortable for construction wearing a safety harness
Milwaukee M12 is a popular item. A lot of buzz has been circulating about this product (both good and bad, by the way). But in all fairness to M12, it does pretty well in keeping you warm despite the chilly weather.
You see…
I stumbled upon a YouTube video reviewing this product which has a negative title. It states 5 reasons why you shouldn't buy M12 at all. In the end, it all turned out that his reasons were really positive (too positive that he used sarcasm in the title).
So you might as well check this product out. Read my full review here.
Key Features:
Expandable battery pockets
The thing about the M12 product is that it is compatible with batteries used in other Milwaukee M12 power tools. If you want to have longer battery life, then by all means you can use bigger M12 batteries. You won't have a problem storing it either since the battery pockets are expandable.
Different controls for each heat zone
This is probably the first time I saw an electric-heated jacket with separate controls for each heat zone, and it's pretty useful, to be honest.
It would really help save up battery life by having different controls for the various heating panels. If your back easily gets cold while the front pocket doesn't, then you can use high on the back and low heat settings in the front pockets.
That will do the trick in prolonging the life of your power supply. You may even turn off some heating panels if you don't really need it at the moment.
Uses the same battery packs as that of M12 power tools
If you are a fan of Milwaukee's M12 power line, then you will be happy about this. You know how your power tools come with their own set of M12 batteries, right? If you ever need a spare, then you can take one out of your tools and use them on the thermal clothing.
Where to Buy Them Online?
This product is available on Amazon and/or The Warming Store.
Materials: Cotton Polyester blend, Waterproof TPU
Heat Settings: 3-level heat control
Battery Life: Up to 16 hours
Heated Area: Front chest, back
Best for: Skiing, fishing, winter sports, outdoor camping
Windproof: Yes
Waterproof: Yes

✓Reasons to Buy:
Classic design
Superb weatherproofing capabilities

✗ Reasons to Avoid:
Charging time is too long (7 to 8 hours)
Questionable battery life, replacement might work better
Look:
Having an active lifestyle no matter the weather is great.
With a ProSmart thermal jacket, you can continue doing the things you love even in the coldest of weather. It uses windproof material perfect for doing light to heavy outdoor activities in the snow.
Key Features:
Long-lasting battery life
The greatest worry you will ever have when using battery-heated gear is that it might run out of power just when you need it the most. It sucks to be in that situation, but there's a big chance that's gonna happen.
This is true especially if you intend on staying out for more than 10 hours (average battery life of most thermal winter jackets) without carrying spare batteries.
ProSmart is different. You don't have to worry about this item ruining your outdoor fun. It can last up to 16 long hours. Though you may not really stay out for the entire duration of its battery life, it will give you the peace of mind that you deserve.
Unlike other products that are only water resistant, this one's totally waterproof (and it comes with a hood, by the way). It helps prevent rain and snow from penetrating the insides of this product. This will keep you warm and dry throughout the day.
Designed for everyday use
A lot of electric-powered outerwear products are designed for a specific use, but this one's different. Its design is perfect for everyday use. With its lightweight materials, neutral color, and classic design, you can never go wrong with this outfit no matter the season.
Best Electric Heated Jackets for Women
If you think all heated outerwear is the same for both men and women, then you totally got it wrong.
Women's thermal jackets are harder to find, to be totally honest. Sizing matters a lot, and color might even be an issue to some buyers.
If you are having a hard time choosing one for yourself, for a friend, or for a loved one, then you might want to check out my top 3 picks in the women's category.
Materials: 93.5% Polyester and 6.5% Spandex shell, 100% Polyester lining
Heat Settings: low, medium, high
Battery Life: 10 hours
Heated Area: 3 heat zones (back, right and left chest)
Best for: Fishing, skiing, snowboarding and other winter sports, biking
Windproof: Yes (resistant)
Waterproof: Yes (resistant)

✓Reasons to Buy:
Classic look
Lightweight
Slim fit
Removable hood
Wrist cuffs
USB-C compatible battery pack available
Great customer service
User's criticism about battery issue was taken note of and so the company updated the design

✗ Reasons to Avoid:
Available in black and purple colors only
Some say the battery dies fairly quickly
Might be a bit bigger than the true size
This is another product from the popular Ororo brand. If it has the best jacket for men, you can safely expect that it also has a great product for the ladies out there. (Read my full review here.)
Although it uses the same set of materials and offers the same features as that of its sibling, this one has a more intricate design fit for women's use.
Key Features:
This slim fit heated jacket also comes with a detachable hood. Actually, this feature has a lot of benefits. One is that it gives the product a more distinguished look. And another one is that it protects you from the unprecedented weather.
Really, there is no saying whether it will rain on your day out or not (forecasts can be wrong sometimes, let's face it). If you want to be as ready as possible without being too obvious (bringing bulky umbrellas and all), then this might work best for you.
Let's face it.
Women can be quite picky when it comes to clothes. It needs to have the right style or the right color that goes with the day's activity or overall look. But do you really have many options when it comes to heated winter garments? I bet not.
So, if you want to stay on the good side of fashion police, then going for a classic look with Ororo's battery powered jacket will really do the trick this winter season.
Gone are the days of puffy winter jackets. You don't need to look too bulky to feel warm under the snow. This product looks like an ordinary thin one, but it heats up really well on the inside. So you can stay warm and fashionable at the same time.
Another great thing about this product is that it only takes a few seconds for it to start heating up. That's really amazing because other thermal outerwear take about 5 to 15 minutes preheating time.
And of course, this is also totally machine washable. It has undergone fabric stress test and can be washed for over 50 machine cycles.
Where to Buy Them Online?
This product is available on Amazon and/or The Warming Store.
Materials: 100% Polyester
Heat Settings: 3 levels
Battery Life: 10 hours
Heated Area: Mid-back, Right & Left abdomen, waist
Best for: All types of cold weather activities
Windproof: Yes
Waterproof: Yes

✓Reasons to Buy:
Available in 4 colors
Comes with a waterproof storage box
With removable hood
Good quality materials
Right fit

✗ Reasons to Avoid:
The color red might be more of a pink-ish shade
Some users reported the issue with the battery/heat areas of the jackets
Venustas isn't as popular as Ororo and VentureHeat, but I have to give it credits for the premium quality materials used in its construction. I don't know if you consider this as an important factor in choosing your winter gears, but it definitely affects the satisfaction you'll get in the end.
Key Features:
Heats up in under 5 seconds
When you are in a rush and you have to go out for a couple of hours, there's a good chance you'll forget to "preheat" your winter gears. As a result, you end up feeling chilly for about 10 minutes even with your battery heated jacket on.
The good news is that:
You don't have to worry about preheating wait time with this Venustas product. In as fast as 3 to 5 seconds, you can already feel it warming up your body.
This product's battery life is decent. Powered by 10,000 mAh batteries, you surely have more time to use it in the cold.
Comes with adjustable cuffs
Not all heated jackets have wrist cuffs. While this might be a trivial feature, it really helps in getting the cold out from your sleeves. With these cuffs, you can block off snow and cool breeze from seeping into your skin.
This one is probably the most unique feature of Venustas battery powered products. The interior liner can be removed whenever you feel like it. If you don't feel cold easily, you might even have this under the jacket and not use the batteries at all. It will still feel warm inside.
Materials: 100% Polyester
Heat Settings: 3 levels
Battery Life: 10 hours on low
Heated Area: neck, back, chest
Best for: Skiing, fishing, snowboarding
Windproof: Yes
Waterproof: Yes

✓Reasons to Buy:
Fast heating
With USB charging port for mobile devices

✗ Reasons to Avoid:
On the expensive end of the tag
Outlast 2.0 isn't only for men. There's also one for women, and it's equally as good.
What I really admire about this product line is that it doesn't have the conventional puffy style that VentureHeat is popular for. Instead, it features a rather classy and lightweight design perfect for any season.
Key Features:
Softshell exterior but extremely weatherproof
Comfort and toughness don't normally go well together, but not in this case. Despite the robust construction of this product, it still remains as plush as a winter jacket should be. In short, you don't only feel warm, but also cozy as well.
Carbon fiber heating elements
This is one of the best heating systems safe for garments. It quickly heats up, allowing you to enjoy using the product more than ever. It also targets the body parts that are most susceptible to the cold to make sure that you stay as warm as you should be.
Where to Buy Them Online?
This product is available on Amazon and/or The Warming Store.
Best Heated Unisex Jacket 2024
Materials: 100% polyester
Heat Settings: 1, 2, 3
Battery Life: up to 10 hours on the lowest heat setting
Heated Area: back and chest
Best for: Skating, camping, skiing, fishing, cycling etc
Windproof: Yes
Waterproof: Yes

✓Reasons to Buy:
Very warm
Great for multi-purpose use
Decent quality

✗ Reasons to Avoid:
sometimes not available in stock
conventional puff design (some people see it as a con)
When it comes to heated gears, Savior Heat always makes it to the list of the best products.
Not only because they are very functional, but also because of the great materials used in making the garments. It doesn't only keep you warm, but it also protects you from wind and water.
Key Features:
Compared to the other products, its design stands out in the sense that it has a classic puff design but doesn't really look as bulky. And despite this style, the product is surprisingly lightweight than it looks. Plus, it doesn't make you look huge like other winter jackets.
You can easily control the product's temperature by pressing only one button. At level 1 (which is the lowest heat setting) it can last for up to 10 hours max. At level 2 setting, you can enjoy it for about 6 to 8 hours. At the highest temperature, it will only last for 5 to 6 hours.
Just a friendly tip:
If it's not really that cold or the weather's still quite bearable, settle for mid or low to conserve battery.
With pockets for storing small items
This is really wonderful. You can bring spare batteries and store them in the pockets for future use. You can also use the pocket to store your mobile phones or wallets while you stay outdoors.
Best Electric Powered Jackets for Work
Materials: Soft shell polyester
Heat Settings: high, medium, low, pre-heat
Battery Life: up to 8 hours
Heated Area: 4 heat zones
Best for: cold workplace
Windproof: Yes
Waterproof: Yes

✓Reasons to Buy:
3 zones of heating (chest, neck, back)
Robust construction
Lightweight for its category
USB charging

✗ Reasons to Avoid:
On the expensive end
For some batter is large and a bit uncomfortable
Dewalt is a leading brand for power tools and equipment. But not only that, they also manufacture personal protective equipment tailor made for construction and engineering works. This includes their 20V battery-powered jacket.
Key Features:
This is very useful for people who engage in construction or engineering work. We all know they use a lot of hand tools in the process. So having these pockets will help them save a lot of time by bringing all the tools they need at once.
This is also true even for those men who are working in their own homes. It would be burdensome to go back and forth to the storage room for tools when working.
USB port for mobile device charging
Another great feature of this product is that it is capable of charging mobile phones and other small electronic devices. Just connect it to the USB port and you're all set.
Using this heated outerwear to work outdoors means it has a high chance of being abused.
Physical labor plus the extreme weather conditions can quickly damage ordinary winter jackets. Since this one's for a specific purpose, it is made of heavy-duty materials intended to withstand stress and abuse.
Read the full Dewalt electric heated jacket review.
Where to Buy Them Online?
This product is available on Amazon and/or The Warming Store.
Materials: Polyester shell
Heat Settings: low, medium, high
Battery Life: up to 35 hours
Heated Area: both chests, back, and both pockets
Best for: working in a cold environment
Windproof: Yes
Waterproof: Yes

✓Reasons to Buy:
Rapid Optimum Charging
Cheaper than rivals
Faster charging time
Long-lasting battery life

✗ Reasons to Avoid:
Lack of a hood
Quite bulky because of the battery adapters
While Dewalt is probably the most popular among workers, this product is certainly worth considering especially if you work in the cold for many many hours and need a long-lasting battery.
So, what's so special about the Makita brand?
Key Features:
This is by far the only product on the list with this feature. Its detachable sleeve allows you to convert this jacket into a heated vest, whichever serves your needs best. With this innovation, you can get yourself a 2-in-1 deal.
If it's not that cold outside, or you just need to go out for a quick walk, then you might as well use it as a vest. On the other hand, if you want to stay out for longer periods of time, you can reattach the sleeves and use them as normal winter outerwear instead.
3 years warranty on heating elements
There's no question about the durability of the product t itself. But what really matters is how durable the heating elements inside it are. Since this product would be washed several times after use, there's no guarantee that the heating system won't get damaged.
The good news is that Makita gives you a 3-year warranty for these heating elements.
Ultra long-lasting battery life
Whether you work or do anything else outdoors for several continuous hours, you'd want to make sure you stay warm. Now this thermal jacket has good insulation even without the heating function on, but should you need to heat it up, it'll be there for you.
Best Heated Jacket for Hunting 2024
Materials: Polyester
Heat Settings: 3 heat settings
Battery Life: 7.5 to 8 hours
Heated Area: 4 heat zones
Best for: Hunting 
Windproof: Yes
Waterproof: Yes

✓Reasons to Buy:
Chic design
Heavy duty
Decent battery life
Quickly heats up

✗ Reasons to Avoid:
Battery ports come out easily (not stable)
Not always available on Amazon
Here is another good product from Dewalt.
It can be used in any type of cold weather activity, but many prefer to use it for hunting mainly because of its design. With 7.5 hours max run time, you can enjoy in the wild without a problem even during the coldest of days.
Key Features:
This is what makes this product unique. At first glance, you will know immediately that it is intended for hunting activities. The color scheme and patterns in this camouflage heated jacket blend in with nature very well, enough to conceal your presence from your prey.
It comes with 4 effective heat zones that will definitely keep you warm all day long. What's even better is that the collar also has a heating element embedded between layers of fabric so your neck stays warm no matter the weather.
Where to Buy Them Online?
This product is available on Amazon and/or The Warming Store.
Heated Jackets: Quick Buying Guide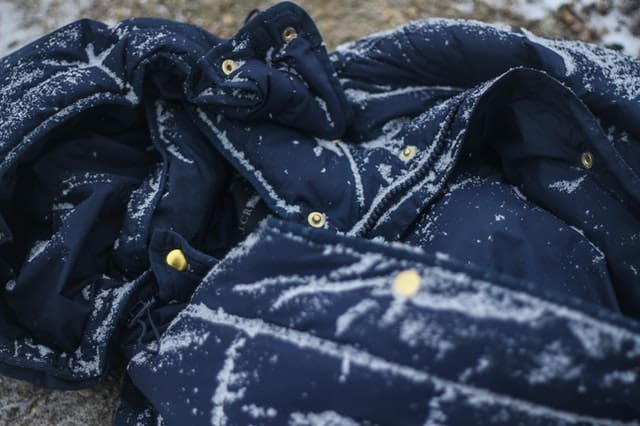 So…
Have you chosen the right thermal outerwear for this cold season? If not, then here are some buying tips and FAQs that might help you decide which one to invest in.
Here are some of the most important things to consider before buying any thermal jacket:
Durability
The durability of a product may not be determined at first glance, but there are a number of ways you can detect sturdy items today (even when purchasing online).
First, you need to look at the kind of materials used to create (any kind of heated gear for that matter). Normally, this will give you enough idea as to the quality of the product without touching it. The better the materials, the higher the chances are that the product is of robust build.
Another thing that you need to consider when testing an item's durability (physically or online), is the manufacturer's reputation when it comes to product quality. Though it may sound biased and without proper basis, well-reputed brands will most likely give you good quality products.
After all, they work so hard to maintain that reputation. Doesn't that only mean they won't create products that are of substandard quality?
Also, when purchasing online, you should check out reviews from actual users and see how well the gear performs under harsh conditions.
Heating elements
Since we are talking about battery-powered garments for cold winters, it would be best to check first whether the item really contains heating elements and not just has good insulation without batteries.
And if it does, you also have to figure out whether it is really functional or not. Otherwise, you'll end up getting frustrated for buying something expensive that works just like any other regular winter jacket.
Also, you also have to check the positioning of the heating elements before buying it.
Proper placement of these electronics will ensure that the parts most susceptible to the harsh cold weather are covered. This way, you can be sure that you will feel warm while using the product.
Type of activities to engage in
The thing about battery-powered jackets is that they are created for various kinds of activities. There are ones that are meant for light winter leisure activities, while there are others that are created to withstand cold weather work environments.
So if you are planning to get one for a specific kind of activity, make sure it serves the right purpose or else you might not get the result you are aiming for. Also, some outerwear products (especially those for heavy-duty use) are more expensive so you might be spending unnecessary bucks for that.
The good thing though, there are a few good multi-purpose electric heated jackets available today. If you think you're going to engage in diverse winter outdoor activities, then you should find items like this.
Sizing
Of course, the size of the products should count as an important consideration as well. Wearing jackets that are too loose will forfeit its purpose. Instead of keeping you warm, it might even make you feel more cold as wind and snow might penetrate the insides of the gear.
On the other hand, wearing jackets that are also too tight isn't that nice either. As much as possible, look for products that are offered in your own size. If not, you better look for other options.
Price
Lastly, you should always consider the price of your chosen winter gear. You should think whether it's worth spending hundreds of dollars on, or should just settle for a cheaper alternative that works the same.
Though expensive price doesn't always mean good quality, that's most likely the case. In order for the products to be robust and weatherproof, they need to use high-quality materials (which are naturally pricey).
Top Heated Jackets: Frequently Asked Questions
It's always wise to make a buying decision only after you've been well-informed about the product you plan on purchasing. To help you make a good choice, here are some answers to the frequently asked questions about battery-powered outdoor gear:
Are heated jackets worth it?
Truth is, battery-powered heated gear can be quite expensive (especially if you buy good-quality ones). So if you're asking whether it's worth investing in, the answer is that it depends on how much you need it.
You see…
Thermal jackets are not only well insulated, but they also have tiny heating elements that will keep you warm despite the cold weather. This makes outdoor winter activities so much more bearable compared to just wearing normal winter jackets. So if you feel like you need/want to go out often this winter season and engage in fun ice (snow) activities, then you might as well get yourself one. It would totally be worth it.
READ ALSO: Milwaukee Heated Jacket Review
On the other hand, if you don't have any plans on spending time outdoors most often, then it would be fine to just buy the regular padded ones. Since it's much cheaper and easier to wash, it will benefit you more.
Is it safe to use?
One of the most common concerns about heated clothing is safety. It is really understandable why many think it's unsafe since it uses electronic heating systems to keep your body warm. But, is there really a need to worry about it?
Honestly:
You shouldn't worry about being electrocuted while wearing this winter gear. They use low-voltage battery packs so put your mind at ease. It's enough power to energize the heating elements but too little for you to get electrocuted.
Aside from that, most of these gears (especially those with much higher quality) have built-in smart switches that detect the voltage used. In case of overheating, it automatically regulates the power (or turns the heating element completely off).
In short, they are very safe to use. But remember to buy only good quality ones to avoid accidents.
How long does it last?
Well, there is really no definite answer to this question. But, I'd be glad to share with you the factors that normally affect the battery life of any heated gear.
#1. Size of the battery pack
Of course, this is self-explanatory. The bigger your battery pack is, the larger its capacity normally is. Bigger power banks tend to offer more run time for the gear, but it comes with a trade-off. Larger batteries mean they are bulkier and probably heavier than their smaller counterparts.
So, if you need your heated jackets to last longer, then find one that has a bigger battery pack. Otherwise, you can enjoy the convenience of having thinner batteries (with shorter battery life usually).
#2. Size of heating elements
This, too, greatly affects the battery life of any thermal gear. Naturally, bigger heating elements require more power supply than smaller ones. So if you have a small battery pack coupled with a big heating system, then most likely that product wouldn't even last half a day.
If this bothers you, make sure to check the size of the heating system and compare it to its power supply. That way, you will be making a wiser choice.
#3. Heat Control Levels
You will be surprised at how much this affects the life of your winter gear. Having several heating controls means you will be able to regulate the battery usage more. Instead of having only one heat setting at max temperature, alternating low, medium, and high settings would make your batteries last longer. Much longer if you only use the lowest heat setting available.
Who makes the best battery-heated jackets?
While the answer to this question is a matter of personal opinion, there are several brands that are so popular for their electric-powered hoodies. Among them are Ororo and VentureHeat.
These two brands deliver products that perform well even in the harshest winter weather. Their products are of premium quality and according to actual users, they are very satisfactory. However, they are pricier than most rivals (but that's the price you have to pay for a premium item).
Can you wash an electric jacket?
This question goes out for all thermal gears. The main concern is that can you wash these jackets even with the heating elements on?
Well, the answer is YES. Most electric hoodies (if not all), are washable by hand. The heating system is normally protected by a waterproof membrane that allows it to be washed. But when doing this, you need to be extra careful so that the tiny wires embedded in the fabric will still be intact afterward.
You can also find a few battery-powered products that are machine washable too. But they are quite rare and expensive. And even if it's okay to throw them into the laundry, most likely they are still not fit for tumble drying.
Remember to read the user manual or manufacturer's instructions before washing any of your electric powered items of clothing. This will make it last longer so it will be worth your money.
Are they waterproof?
There's still no definite answer to this. Actually, it depends on the type of outerwear you purchase.
Nowadays, finding waterproof electric jackets is not that hard. There are so many products that offer more than just warmth and comfort. In fact, most heated garments now have waterproof membranes protecting the heating elements. The materials might even be windproof so you can be sure it's durable.
What are the best materials for thermal jackets?
Polyester is the most commonly used material for electric winter gears. This is probably because of its waterproofing capabilities.
Compared to fleece or nylon, it performs better when exposed to water and wind. However, using polyester alone might not provide the right comfort and insulation that you need. That's why there's mostly an inner layer made up of soft fleece or other cozy fabric.
Now that you've read all these, you are ready to start shopping for the best-heated jackets for the 2024 winter season.
You can also browse around our website to find the best heated clothing and accessories today.
Choose wisely!