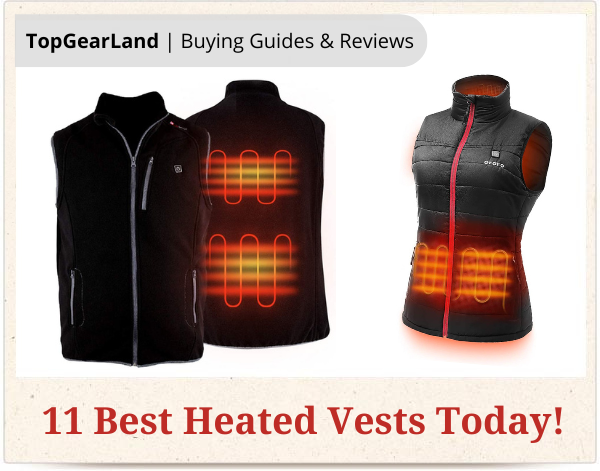 ---
My list of the best battery heated vests for men & women in 2023.
---
Let's face it:
We all find it pretty annoying to wear several layers of clothing just to be able to enjoy winter outdoors, right?
Whether you enjoy cold-weather photography, skiing, hunting, fishing, motorcycle riding, etc., you probably heard that you can use battery-powered vests.
These are the hottest gadgets (pun intended) on the market right now. So, are whether are they really worth it? What is the best option for you? And that's exactly what I'm here to help you with today.
To speed your research up:
(Read until the end of the post because I also shared buying guide and FAQ.)
IF YOU ARE IN A HURRY AND JUST WANT TO FIND OUT WHAT THE BEST HEATED UNISEX VEST (UNDER $150) IS, HERE'S MY TOP PICK!
An overview of what expect today:
Without much ado, let's get started.
---
Best Unisex Warming Heated Vests This Year
---
1. ARRIS – Our Top Pick!
Materials: Polar Fleece
Colors: Black, metallic gray
Heat Settings: 5 heat levels
Waterproof: No
Battery Life: up to 7 hours
Sizes: All (Medium to XL frames)
---
When it comes to unisex electric heated body warmers, ARRIS is one of the best options you got. Right now, it's the only vest that comes with replaceable/adjustable panels for a better fit.
What I like about unisex products is that they can be literally used by anyone. Imagine having a friend come over and he forgets to bring his proper winter clothing. Would you want him to miss out on the fun or just have him borrow one of yours?
Key Features:
The most impressive feature of ARRIS product is how its heating elements are distributed. 6 spots are targeted and they work so well in providing warmth all over your body. There's one at the upper back, two on the lower part, one on the collar, and two on the front sides.
We have all heard about adjustable winter gears but not the way ARRIS does it. Instead of rolling in some of the fabric to make the outerwear smaller, you can replace an entire portion by simply unzipping it and putting back a smaller sized panel.
I also have to mention that this body warmer heats up quickly. In a matter of seconds, you'll start feeling the warm heat spread across your body evenly.
Where to buy it online? Check the price and availability on:
This product is available on Amazon and/or The Warming Store.
---
Materials: Polar Fleece
Colors: Black, Gray, Dark Blue/Gray
Heat Settings: high, medium, low
Waterproof: Water Repellent
Battery Life: up to 10 hours
Sizes: S – 2XL
---
Another brand offering a gender neutral product is PROSmart. They manufacture good quality winter outdoor clothing at a reasonable price.
It supports portable USB charging so you get to choose how long you can wear it. If you want to use it all day long without a pause, then you can just bring your power banks and charge it. You can continue to use it while charging, too.
Key Features:
The good thing about this product is that it is very easy to use. You only need to deal with one button when changing the heat setting. Also, this button is situated perfectly above the left chest for easier access.
This material makes the product really soft and warm by itself. The fleece membrane heats keep the heat in, making you feel warm for longer hours. Pretty awesome. 
(Though, if I were to choose between Arris and ProSmart, I would probably choose the former.)
Where to buy it online? Check the price and availability on:
This product is available on Amazon and/or The Warming Store.
---
Best Heated Vests for Men (2023)
---
Materials: 100% Polyester shell
Colors: Black
Heat Settings: Low, medium, high
Water resistant: No
Battery Life: 3 to 10 hours
Sizes: S to 3XL
---
ORORO is a well known brand for heated gears that work well for all seasons. They produce lightweight yet fully insulated winter garments to keep you from getting cold. Their ultimate goal is to keep you warm and comfortable while still being fashionable.
Over the years, this brand has made a good reputation for making superb quality products for a price that doesn't hurt your pockets too much. That's a really good deal to avail of.
Key Features:
This electric winter vest is made out of 100% polyester outer shell and lining just like most counterparts. But what sets it apart is its filling. Beneath the outer layer lies a membrane made up of Sorona fabric. It is a unique material with eco-friendly components. This filling is responsible for making this outerwear breathable and warm.
Powered by a 7.4V battery, this Ororo product can last up to 10 hours with continuous use on the lowest heat setting. That's quite a long time for you to enjoy outdoor activities without freezing.
READ ALSO: Ororo Heated Jacket Review – Best Value for Money?
If you think low heat setting is not giving off enough warmth, you can use it for about 6 hours on medium level and 2 to 3 hours on the highest. But I doubt there will be a need to go for the highest level since even without batteries the vest still warms you up.
This is one of the reasons why a lot of people prefer buying from this brand. They offer a 3 year warranty on the product's heating elements. If in case it malfunctions or does not work at all, you can simply send them a message and they'll fix it in no time.
Aside from that, they also offer 1 year warranty on the battery. As long as the fault does not fall on your end, ORORO will accept it.
Where to buy it online? Check the price and availability on:
This product is available on Amazon and/or The Warming Store.
---
Materials: Soft Shell Fabric
Colors: Black
Heat Settings: 4 level temperature control
Water Resistant: Yes
Battery Life: up to 10 hours
Sizes: Small to 3XL
---
There's so much you can do outdoors even during cold season. It would be a waste not to be able to enjoy those activities just because you easily get chilly. Actually, there's a good way to combat that – wear thermal winter gears.
Mobile Warming is a brand focused on producing such garments and gears. They have incorporated heating elements into fabrics to keep you warm and nice even during the coldest of days.
Key Features:
This is one of the best features of this item. It has built-in Bluetooth connectivity that allows you to connect it to your Smartphone device. You can easily switch up temperature settings by using a dedicated mobile application. With this, you never have to look for that physical switch to trigger the heating elements.
We all know the fun stuff doesn't only happen during day time. There are times when you may have to stay longer out in the open cold throughout the night. And sometimes, the weather can be so harsh even during day time that it impedes visibility.
The good news is that, this electric powered heating vest is phoslite reflective. It means you will easily be seen even under low lighting conditions. This is another safety measure incorporated in a garment, and it's pretty awesome.
Where to buy it online? Check the price and availability on:
This product is available on Amazon and/or The Warming Store.
---
Materials: Wool Blended
Colors: Gray
Heat Settings: 3 levels
Water Resistant: No
Battery Life: 2-6 hours
Sizes: S to XXL
---
When it comes to heated gears, VOLT never misses a spot in the top ranks. They are a trusted manufacturer of effective and fashionable winter garments. Their products are top of the line and designed with excellent quality materials.
Empire product line is one example of their well-constructed vests. It is a thin one with great heating features. Unlike other ultra puffy winter gears, this one will let you move freely around without weighing you down.
Key Features:
Some parts of our bodies easily get cold faster than others, and VOLT knows that very well. For this item, they have strategically placed the heating elements on both chests and on the upper and lower back portion of the outerwear. This design ensures that all the "cold-spots" are covered.
Empire 5V is from a blend of polyester and wool to provide utmost comfort and functionality. Because of these materials, it has a soft yet sturdy exterior.
There are three different heat settings you can choose from. Turning on the red setting will give you the highest temperature. The blue symbolizes the middle setting, while the green light indicator means it is on the lowest heat setting.
Rechargeable 5V Batteries
And what's even better is that this product comes with a rechargeable power supply. You can use it the entire day and charge it at night (or any time of the day when you are not using it). That's just really convenient.
Where to buy it online? Check the price and availability on:
This product is available on Amazon and/or The Warming Store.
---
Materials: Ripstop Polyester
Colors: Black
Heat Settings: 3 level temp control
Water Resistant: Yes
Battery Life: up to 6 hours
Sizing: S to 3XL
---
Milwuakee has a long standing history. They have been around since 1924 offering tools and gears for construction activities. They have a wide array of products from heated clothing to power tools. Over the years, they produced high quality work gears and M12 vest is one of those.
READ ALSO: Milwaukee M12 Heated Jacket Review
We all know that there are different kinds of heated gears for different kinds of activities. As for this one, though it is initially meant to be a winter work vest, it can be used for various outdoor leisure activities too.
Key Features:                                                                                                         
Let me tell you this…
It's hard to find thermal gear that is machine washable, so this is a really unique item.
Doing work or strenuous outdoor activities in the cold won't make you sweaty but there are still chances of microbes and germs clinging to your clothing. That's why it's always recommended to wash it clean.
However, most heated gears is not machine washable since they have sensitive electronic heating systems. This makes it so difficult to clean (unless you bring it to a dry cleaner or have it hand washed yourself).
But with M12, it's unlikely you'll have to worry about dirt again. You can load it into the washer and still get a fully functional warm vest afterwards. Just don't tumble dry it so that the heating elements stay intact and in place.
Speaking of heating elements, this product uses specialized carbon fibers to distribute heat evenly across this sleeveless jacket. This means you get a warm feeling all over (not just in one spot).
Where to buy it online? Check the price and availability on:
This product is available on Amazon and/or The Warming Store.
---
Best Heated Vests for Women (2023)
---
Materials: 100% Nylon outer shell
Colors: Black/Red
Heat Settings: 3 levels
Water Resistant: Yes
Battery Life: up to 10 hours
Sizes: S – 2XL (true to size)
---
If you are a fan of this brand, then you probably know all too well that they don't only focus on quality but also on the overall design of their products, especially those designed for women.
(It's actually harder to find winter clothing for women than it is for men.)
There are a lot of other things to consider when choosing which to wear. You need to pick the right style that goes well with your entire outfit. You need to pick the right color for better style coordination and all those things. Otherwise, the fashion police will track you down.
The good news is that ORORO puts in extra effort in this department and that's really evident in this product. A minimalist black vest accented with red zippers can never go wrong. You can easily find lots of clothing to pair with that.
Key Features:
This is the best thing about ORORO products – they can be thrown into the washer without a problem! Since the heating elements are embedded between the waterproof exterior and interior layers, you don't have to worry about damaging the electronics.
In addition to that, the high quality nylon exterior allows for powerful washing without the threat of peeling or tearing.
Another thing notable about ORORO vests is that they are surprisingly lightweight. Even though it's well padded, the item doesn't look puffy at all. In fact, it looks slimmer than most rivals. This means you can put on something else on top of it without looking too huge. Or, you can use it as it is and enjoy various kinds of activities outdoors no matter the season.
You can have a winter gear with the best heating elements but still feel cold. Now, you might be wondering – how is that even possible?
Truth is, these tiny electronics need to be placed in areas that easily get cold. Otherwise, it won't be as effective in warming up the body as it should.
ORORO positioned the heating fibers in the pockets, the upper back and around the collar. I have to admit it really is a smart move to place it in the pockets. This is like serving a dual purpose. You get to warm the abdomen area and you also get the chance to warm your hands as well (if there's ever a need for it). Just simply keep your hands in the front pocket to keep it nice and toasty.
Another notable feature is the superb battery life of this product. Imagine being about to enjoy outdoors without freezing your core for about 10 hours. It also doesn't take too long to get a fully charged battery so you can use it more.
Where to buy it online? Check the price and availability on:
This product is available on Amazon and/or The Warming Store.
---
Materials: 84% nylon, 16% spandex, 100% polyester
Colors: Black
Heat Settings: 3 levels
Water Resistant: Yes
Battery Life: up to 20 hours
Sizing: S – XL
---
Of course, how can this list be complete without mentioning a product from the brand LENZ?
LENZ produces top of the line winter clothing designed for both functionality and style. They use premium materials for greater features. With that also comes premium pricing.
The best thing about their products though, is that it serves a double purpose. You can wear it as an undergarment since it is thin enough to look and feel like one. You may also use it as a stand-alone battery powered vest since it provides enough heat for you to feel comfortable even outside.
Key Features:
Extra puffy and bulky winter jackets is a thing of the past now. What is in today are the thinner products that contain heating elements to still keep you nice and warm no matter the season.
The good thing about having a thin heated vest like this one is that you get to wear it even if it's not winter. During fall and spring (when the air is not too cold), you can wear it stylishly without turning the heating system. It will still look as fashionable as ever.
20 Hours Heat Development
Now, this one is a game changer.
Even if you stay outdoors for the entire day, you won't feel cold because this item will provide as much heat as you need. This is best to wear for those of you who are planning to do lengthy winter activities such as alpine climbing, skiing, ice climbing and other similar stuff.
Oh, did I mention that the heating element can be remotely controlled via Smartphone app?
Yes. That's right. You can easily adjust the temperature level according to your preferences with a few taps on your phone. Just connect it via Bluetooth and open the app for the controls.
Made with high grade materials, it is definitely a durable item. It can withstand harsh weather conditions which makes it a good choice for outdoor winter sports.
This is the only thing that will make you do a double take on this item. I admit, the price is way over the top. It's really pricey considering how other products are offered at less than half its tag.
But, you also have to consider what benefits you are getting from paying too much for a heated vest. If you think there are essential features that you can't find in other products, then that's probably the reason why this one is a more expensive option.
Where to buy it online? Check the price and availability on:
This product is available on Amazon and/or The Warming Store.
(This winter outerwear is actually available for both men and women.)
---
Materials: Cotton
Colors: Light Gray
Heat Settings: 3 levels up to 50C
Waterproof: No
Battery Life: Up to 5 hrs
Sizing: S – L
---
This is a very unique innovation from FITTOP. It's probably the thinnest thermal vest on this list. This is the reason why it is highly preferred by women.
The design itself is very unique. Unlike other products that are heavily padded and with zippers, this one has a wrap around concept. It has an adjustable waist belt, perfect for any size. This band is secured with Velcro, so it stays in place even if you keep moving around.
Key Features:
Made out entirely of cotton, this product is extremely lightweight – only about 480g. This means you can freely move around as if you are wearing normal clothes in summer. The only downside is that this material doesn't allow it to be waterproof, or even just water resistant.
It's not a secret that many of us fear getting electrocuted while wearing something with electronics. But you shouldn't worry about that with this product. It has a built-in auto power off feature to prevent overheating. This should make you feel comfortable to wear FITTOP if you need to.
30 days money-back guarantee
To prove that their products are worth it, the company even offers a 30-day no questions asked money back guarantee. If you don't like the item, or if it's not working properly, then you can simply return it to them and they'll gladly give you a refund.
The best part about this body warmer is that it allows portable charging. Since it uses only 5V batteries, you can charge it like a mobile phone via portable power bank. Yes, that's right. When you feel like the batteries are draining low, just simply connect the USB cable to the power bank and you'll continue to enjoy feeling warm all over.
Where to buy it online? Check the price and availability on:
This product is available on Amazon and/or The Warming Store.
---
Best Battery Powered Vests for Work
---
So far, we've only covered battery heated gear for winter sports or daily wear, but what about heated clothing for work?
Is there really a difference if you get a work vest and a normal electric body warmer?
Actually, there is a slight difference between those two. Work jackets are usually industrial grade – meaning they are more durable and powerful. And normally, all those extras will cost more bucks.
Now…
Here are two of the best heated vests for working outdoors:
---
Materials: Polyester Fleece
Colors: Camouflage
Heat Settings: 3 levels
Waterproof: not specified
Battery Life: up to 7.5 hours
Sizes: Small – 3XL
---
DEWALT is a popular brand when it comes to power tools and construction equipment. But that's not all they offer. In fact, they are now making heated gears fit for industrial purposes. This REALTREE XTRA Camo is among their best creations.
It uses a 20V Max power supply, making it a tough player in the workplace. The overall design is very efficient. There are two pockets big enough to store average hand tools and even gadgets.
Key Features:
This item also supports portable charging. However, instead of filling the clothing's battery, it does the opposite. Portable charging feature means you can connect your electronic devices to the built-in USB charging port. But doing this will lessen the run time of the vest itself. So if there's any other way to charge your devices, choose it.
This is the only Camo-colored option in this list, which means it is very unique. Though it's initially meant as a work vest, it would also perform well when hunting. Given the Camo design, it's a perfect disguise to stay hidden from your prey.
Where to buy it online? Check the price and availability on:
This product is available on Amazon and/or The Warming Store.
---
Materials: Polyester, nylon sides
Colors: Black/Blue
Heat Settings: 3 levels
Waterproof: Not specified
Battery Life: Up to 28 hours on 5.0 Ah LXT battery
Sizes: Large – 3XL
---
Another major player in the power tool industry is going in for heated gears. MAKITA is a trusted brand that manufactures excellent quality products.
Key Features:
This one is by far the only product with more than 24 hours run time. You get to use it literally the entire day without recharging it again. It's really a game changer. With this product, you'll get to enjoy all the winter fun and work.
The bad news is that the battery pack is not included in the package. If you want, you need to purchase it separately (which is quite pricey, by the way).
This heated vest is industrial grade. This means it is more durable and sturdy than normal heated sleeveless jackets. If you think you need this level of robustness, then this one's definitely for you.
Where to buy it online? Check the price and availability on:
This product is available on Amazon and/or The Warming Store.
---
Battery Heated Vests: A Quick Buying Guide
---
Before buying your very own thermal clothing, there are a few things you need to consider. I'll share them with you so that your purchase will surely be worth you bucks.
First things first…
When you buy something, you should always check what kind of materials the product is made of. Normally, this will affect the durability of an item (we'll talk more about this aspect shortly). It also usually tells you how much insulation you are getting without turning on the heating elements.
The good thing about having a winter gear made from high quality materials is that they usually last longer than one winter season. That only means you will be saving hundreds, if not thousands, of dollars by purchasing one.
The durability of a product determines the degree of satisfaction you will get from using it. If the product is sturdy enough even after tough weather conditions, then most likely you'll never regret paying its price.
Another thing about durability is that it is also a factor that greatly affects the life of a product. For highly robust items, you can use it much longer than those that are not. It will save you lots of money because there is really no need to replace it all the time. Also, using durable products also helps in preserving the environment by reducing waste and saving resources.
Real talk…
Many of us, if not all, consider price as a major factor when purchasing any product. Of course, we don't want to end up paying a hefty price for a product that doesn't meet our requirements, do we?
A lot of you have been asking me this question:
Does price really have anything to do with the products quality?
That's the most intriguing question that all of us want to hear an answer to. Honestly, it all depends on the manufacturer of the item. Those brands that use top quality materials would normally offer the vests at a more expensive price. However, there are also some companies that create good quality products at an affordable price.
In the end, it all boils down to your personal preference. You should think ahead whether you are willing to shell out a significant amount of money for a winter wear with the best quality, or are you just willing to go for the cheaper alternative with fewer features.
Speaking of features, these things should also be considered before buying any heated winter gear. Not all products have the same set of features. Others offer more insulation, while some others give you more mobility and comfort. And if you are lucky enough, you'd find one product that offers both.
It would be best to make a mental note of all the features you want in a battery heated vest and start filtering options that don't meet your requirements. This way, you will be able to make the right choice that will cater to your needs.
Thermal sleeveless jackets usually come in different sizes. But there are some brands offering one-size-fits-all type of products. Speaking of, you should also check out these top rated heated jackets this winter.
The thing about choosing products that have different sizes is that you get to wear something comfortable. And that's a feature that all of us wants. Honestly, who would want to look so shabby in an oversized vest?
However, buying a free-size option is not that bad either especially if you're purchasing it as a gift for someone. Actually, it would be safer to get this kind of product if you are not so sure about the person's exact garment sizing.
Bottom line is, you need to determine the purpose why you are buying the item and then assess whether it's okay to get free-size or not.
Since we are talking about battery operated winter clothing, this would be a major determining factor whether to purchase an item or not. It would be a waste of money to buy something that doesn't even last 2 hours out in the cold.
Before buying one, you should always ask the manufacturer or other users if the product has an excellent battery life. This is so important if you intend to use it outdoors and plan on staying under the cold for long hours.
An average electric vest would last for about 2 to 6 hours. Setting this as your benchmark will help you choose an item that has excellent battery life.
As trivial as it may sound, considering accessories when buying winter gear is really a wise move. This includes spare batteries, charging cords, adapter, alternative power supply and many other things that will make the product more functional.
As much as possible, you should look for a product that includes most of those accessories in the package. If not, you'll end up paying more when you decide on buying them separately.
Note: Most of these accessories are optional and don't interfere with the products main purpose, so it's still up to you whether you want them or not.
So, there you have it!
If you want to make a wise buying decision for this season's gears, then you should take note of the things mentioned above.
---
Frequently Asked Questions
---
This ultimate buying guide will not be complete without answering your most asked questions. I know you are very eager to get some answers, so let's proceed.
This ultimate buying guide will not be complete without answering your most asked questions. I know you are very eager to get some answers, so let's proceed.
1. Are heated vests worth it?
Yes, it's worth buying the heated vests if you want to make sure you stay warm outdoors. The heated gear market is booming lately, and for a good reason.
For example, check out this list of the best heated gloves this year. You can also invest in battery powered socks and rechargeable electric hats to make sure you stay completely warm.
(Note: Some people prefer heated insoles instead of heated socks to avoid sweating when outdoors.)
Pretty awesome is it to have gadgets like these in our lives, eh?
2. Is it safe to use electric heated apparel?
Many of you probably have second thoughts on using battery heated vests for fear of electrocution. But let me tell you this straight – that will not happen!
The thing about electric powered gear is that they are engineered to provide you the right amount of heat without using too much power/voltage. In fact, almost all of these winter garments are powered using batteries with 12V tops. That's a really small amount of power for you to get electrocuted.
Moreover, thermal vests may have built-in heating system made of tiny electronics but they are well hidden beneath several layers of fabric. And most likely, it is protected by a waterproof membrane so that you can still use it even when it's damp.
3. How do you measure your size?
So…
I've been hearing this question quite a lot and I'm here to help you get an answer to that. But first, let me remind you how important it is to buy your own size rather than settling for a free-sized garment.
Wearing the right vest size is very beneficial. If it's snug, it means better insulation. Since some thermal sleeveless jackets are already warm even without the batteries, keeping it closer to your body will make you feel toastier. Believe me, the last thing you would want is to wear an oversized outerwear thus forfeiting its ultimate purpose of keeping you warm in the cold weather.
Now, here are some of the things you should do to get the right size:
Remove unnecessary thick clothing
This step is extremely important if you wish to get the exact size for your winter gear. You need to have measurement as close to your body as possible to ensure snug fit. Leaving a thin under garment on is acceptable.
Get a tape measure and wrap it around the chest area, making sure it is well aligned through front and back. The most ideal position when doing this is to raise both your arms up but you will need the help of a friend with it. If you are taking the measurements alone, it's enough to have one arm raised while the other holds the measuring tape.
When doing this, make sure that the measuring tape stays as close to the chest as possible (but don't make it too tight or else you'll get the wrong size). Remember to leave some room for air.
Actually, whether or not you do this step depends on which type of winter vest you want to buy. If you wish to purchase a normal thick one, then skip this step and proceed to the next one.
On the other hand, if you prefer slim fitted sleeveless jackets (especially for women), then you should also include waistline measurement. Take the tape measure and wrap it around the natural waistline, a little bit above the belly button. Don't wrap it too tight, though.
This step is also equally important. To make sure that the outerwear fits perfectly, you should pay attention to the hip size. If it's too big, chances are cool wind and snow might make their way under the vest, making you feel cold. If it's too tight, you might not be able to sit down properly when wearing it. Just leave enough room for breathing.
You should also consider the shoulder width before you purchase winter season apparel. Make sure the beginning of the sleeve sits right on top of the shoulder joints. This way, you can be sure that the garment fits perfectly.
Measure desired length of the outerwear
Lastly, you have to determine how long you want the vest to be. For both men and women, it's nice to have it down 'til it reaches the widest area of the hips or a little above it.
Note: After taking all the necessary measurements, check out the sizing chart from manufacturers and see whether they have products that fit your requirements. If not, you can look for another brand. This will make your search a whole lot easier.
With these amazing cold-weather accessories, you won't have to worry about being cold anymore.
Now, I'd like to hear from YOU:
Are you ready to have fun outdoors in the cold? What are your thoughts on this list of the best heated vests for 2023 winter season? Let us know in the comments below!