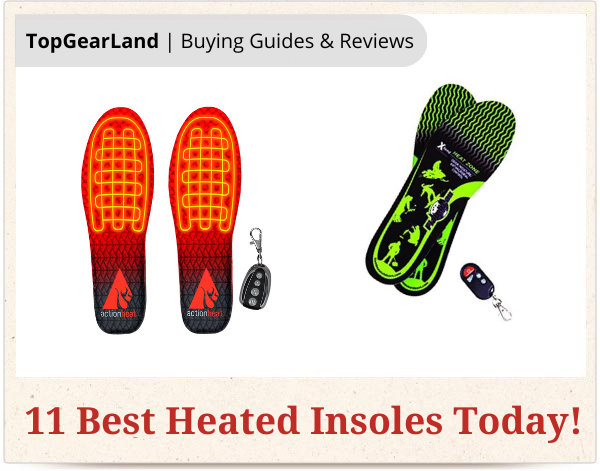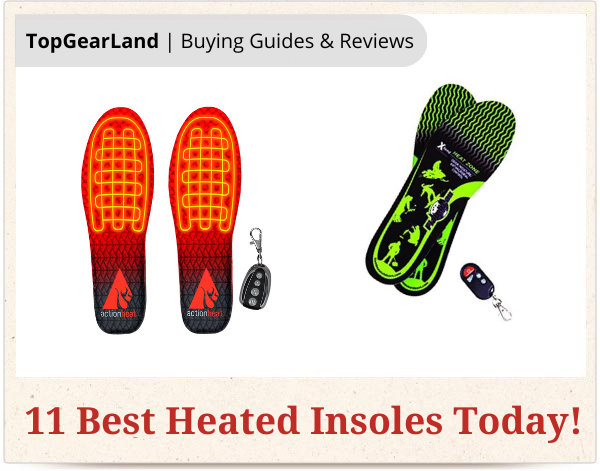 ---
The list of the best battery heated insoles (for winter 2023-2024).
---
Having perpetually cold feet is really frustrating.
Whether you are a cold weather photographer, a winter sports enthusiast, work outdoors in the cold, or simply have blood circulation issues, there are a couple of solutions for you.
One is by investing in one of these great heated socks.
Another smart option is by using the battery heated foot insoles. And that's exactly what we are going to talk about in this post.
IF YOU ARE IN A HURRY AND JUST WANT TO FIND OUT WHAT THE BEST HEATED INSOLES ARE (UNDER $100), HERE'S MY TOP PICK!
Here's an overview of what to expect today:
Best Heated Insoles & Ski Boot Heaters 2023
Wasoto – Best heated shoe insoles under $100. MY TOP PICK.
Hotronic S4 Universal– One of the most popular heated gear brands.
Thermup – Best FIR electric heated insoles under $100 today.
Gerbing – Deodorized, breathable, ultra-thin, and lightweight for your comfort.
Winna – A battery-powered foot warmer made from wool.
Inkon – Affordable shoe insole for winter activities (camping, climbing, skiing)
Riomza – Rechargeable, electric shoe insoles with accurate remote control.
Aolbic – The cheapest electric foot warmers (under $30)
Snook Ease – Microwaveable type of shoe inserts!
NOTE: Some products may be unavailable on Amazon, so I highly recommend checking The Warming Store as well!
Get ready to say goodbye to those chilly feet!
---
Company: WASOTO
Heat Settings: 3 temperature setting up to 149F
Sizing: Small, Medium, Large
Best for: Snowboarding, hunting, skiing, cycling, and other winter activities
✓Reasons to Buy:
Fast-heating
Different sizes (cut-to-fit feature)
Good quality material
Three-level heat setting
Remote-controlled
✗ Reasons to Avoid:
battery life could be improved
a bit thick
WASOTO is now the leading brand when it comes to battery-powered insoles.
It might be new to the ears of many, but this company has various winter clothing popular not only for its design but because of its functionality as well.
This 3300mAh battery-powered shoe insert can help keep your feet warm for up to 11 hours even outdoors during the coldest winter season. Here are the key features:
There are universal insoles, and there are those with appropriate sizing to fit the specific user. If you were to choose between the two, I bet you'd go for the one with accurate sizes, right?
WASOTO offers this product in three different sizes – Small, Medium, and Large.
Small will fit men with shoe sizes ranging from 3-5.5 and women ranging from 5-7 US size. If your size is US Men 6-8.5, US Women 8-10, then you should go for a Medium. Large-sized insoles can fit up to 12 in men and 13.5 for ladies.
But the best thing about this is that despite having accurate sizing, it still offers a cut-to-fit feature. In case you feel like the size is still too big for you, you're free to cut off a portion of the insole without damaging the electronics.
Each manufacturer uses different types of materials in making an electric shoe insert.
For WASOTO, they believe velvet is one of the best cloth you can put on an insole. Well, true enough, it provides a certain level of natural warmth and comfort to whoever wears it. We all know how soft and tender velvet can be.
If you love being outdoors during winter, then the first thing you're probably going to check in heated products is the battery life.
It's no good to wear an electric food warmer with no charge at all. Although it can provide some source of insulation in itself, it would feel different to have the heating elements turned on.
Wasoto's 3300mAh insoles, you never have to worry about cold feet for as long as 11 hours (continuous usage).
That's if you put the temperature at the lowest setting, about 113F/45C. If you want to use a mid-temperature setting, it could only last about 7-9 hrs max. On high temp, you'll only be able to enjoy its warmth for about 5-7 hours.
The most important function of battery-powered insoles is their capacity to produce enough heat to keep your feet warm even when outdoors. Some take a decent amount of time to heat up, but WASOTO promises otherwise.
This product has several tiny holes in the heating area. They help distribute and generate the heat faster, keeping your feet warm and toasty in a matter of seconds.
Where to Buy Them Online?
This product might be available on Amazon and The Warming Store.
Company: HOTRONIC
Heat Settings: 4 levels up to 178F
Sizing: One-size-fits-all
Best for: Snowboarding and skiing
✓Reasons to Buy:
Long-lasting battery life
Customizable size
Robust quality
Keeps up with your active lifestyle
Easy to install
✗ Reasons to Avoid:
A bit more expensive than its competitors
The wires could be a bit more sturdy
When it comes to powerful heating elements, you can rely on Hotronic to give you what you just need. They are a company well known for creating excellent quality heated gear that works well no matter the season.
S4 Universal is the latest foot warmer they can offer (and are known to be the best ski boot heater).
It is a unique product that will fit literally anyone. Regardless of age or gender, this item will greatly help battle the coldest days. Here are the key features:
This is actually what makes this product so unique. Unlike electric foot warmers precisely cut to specific sizes, this one lets you decide for yourself. And there's no danger in cutting up the heating elements in the process because it is not embedded in the insoles themselves (yet).
All you need to do is take out the original boot insole and use it as a pattern for S4. Once you're done cutting it out, you can now insert the wired heating system between those two. And the rest is as easy as 1-2-3.
Another thing that makes this foot warmer a crowd favorite is its excellent battery life. On the lowest temperature, you can use it for 21 hours tops. Now, that's enough to keep you warm for the entire day. Then you can recharge it at night and use it the next day as if it never drained out.
For the highest heat setting, you can enjoy using it for about 2.5 to 4.5 hours. But, most likely, you will not need this much heat even if you easily get cold.
After the battery drains out, you can just recharge it at night and continue using it the next day as usual.
Hotronic S4+ is an upgraded version of the predecessor S4 Universal. In this latest model, the switch now comes with a slightly more elevated guard (protector) to prevent unintentional switching between temperature levels. It also now comes with a more powerful and longer-lasting S4+ battery pack which is still compatible with the chargers for both E, M, and S models from the brand.
Where to Buy Them Online?
This product is available on Amazon and/or The Warming Store.
Company: THERMRUP
Heat Settings: 4 level controls
Sizing: cut-to-size (5.5 to 12.5)
Best for: Winter sports, cold workplace (ice plants, refrigerators, etc)
✓Reasons to Buy:
Can be machine and hand washed
For all kinds of activities
Inclusive battery holders (gaiters)
Rubber heating element
Far infrared (FIR) foot warmers
Very warm even at low setting
Working up to 10 hours confirmed
✗ Reasons to Avoid:
Batteries are a bit bulkier
Fragile (scrunch up)
Batteries secure around your ankles with elastic gaiters – might not be comfy for some
Thermrup is another brand that is popular for making exceptionally functional heated gears perfect for use all year round (especially during the winter season). It is a leading German brand with customers from all around the world.
This product is actually one of the few cut-to-fit insoles that will adjust to your right shoe sizing. If you feel like you have a big room for thicker shoe inserts, then cutting it a size larger will most likely do the trick. Otherwise, trim them to the right size.
Here are the key features:
It's not a secret that these battery-heated garments can be very delicate. It's rare to find a pair that can be machine-washed, but Thermrup made that possible.
Equipped with a waterproof fabric membrane, it's unlikely that the heating system will get damaged when washing the item. But of course, you should still be careful enough not to spin the washer too fast and hard just to be safe.
Far Infrared Rubber Heating Element
FIR is one of the most popular heating systems that can be safely used on clothing. It also distributes heat more evenly than other materials.
In addition, rubber also heats deeper than other materials. This ensures that your feet stay warm and comfy all day.
2500 mAh Li-Ion Batteries
There is just so much power packed in these thin winter foot warmers. It's enough to make you last an entire day doing outdoor activities without getting cold feet.
The best part of it all is that these power banks come with separate gaiters. You can attach both the batteries and excess cord to them so they don't mess up with your fun outdoor adventures.
The thing about premium quality electric foot warmers is that you get to control the level of warmth they produce.
Unlike disposable ones that only have one heat setting (which can either be too hot or not hot at all, to be honest), these rechargeable ones allow you to adjust the temperature to your own liking.
NOTE: This product from The Warming Store can also be controlled from the app!
If you feel extra chilly today, then you can simply turn it up to medium or high. If you feel like the cold is bearable enough, then you can just choose the low heat setting.
Where to Buy Them Online?
This product might be available on Amazon and The Warming Store.
Company: Gerbing
Heat Settings: Low, Medium, High
Sizing: S – XL (cut to fit)
Best for: Hunting, skiing, snowboarding, winter work, those suffering with Reynaud's etc
✓Reasons to Buy:
Ultra-thin, lightweight, and comfy
Easy to cut for your size

Easy to charge and use
✗ Reasons to Avoid:
Better directions could help
The heel feels thick due to the components (battery)
Gerbing is another manufacturer that set the bar a notch higher for winter foot warmers. This is because they've been in the heating clothing technology industry for decades.
Its thermal insoles come in three different sizes (small, medium, and large) that are trimmable to fit your true size. You just have to cut the excess away to make sure the inserts fit your shoes well.
The good thing about it is that despite being trimmed, the insoles stay intact and no wires or heating elements show on the outside, unlike most low-quality alternatives.
Key Features:
As we've already mentioned, Gerbing has been on the market for over 40 years, and they have a patented heating system for their products. These heating elements are in the footbed of the insole and ensure your feet stay warm for up to 8 hours.
Important note: When you purchase a Gerbing product from The Warming Store, the heating elements are warranted for life. (You also get warranties on batteries, chargers, etc. See this page for details.)
Deodorized Breathable Fabric
We all know how it gets when the feet get sweaty and all. Aside from attracting harmful microbes, it usually causes a bad odor, which none of us wants, that's for sure.
Good thing is that Gerbing made these with deodorized and highly breathable fabric that wicks the moisture away. This helps keep your feet dry no matter the activities you decide to engage in.
Ultra-Thin and Lightweight Design
These insoles are known for their lightweight and ultra-thin design for maximum comfort. You can fit them in all types of footwear, shoes, and boots, which can come in handy. Whether you are hiking in your hiking boots, or skiing down the slopes, these could be a good option to consider under $100.
Where to Buy Them Online?
This product might be available on Amazon and The Warming Store.
Company: WINNA
Heat Settings: 3 level controls
Sizing: trim-to-fit (US Size MEN 4 – 12, WOMEN 5.5 – 11)
Best for: Winter fishing, hiking, outdoor activities, blood circulation, etc
✓Reasons to Buy:
Heats up quickly
Affordable
Accurate temperature control
Rapid heating
✗ Reasons to Avoid:
Shorter battery life than counterparts
Need to reconnect/reset the remote from time to time
One of the perks of wearing electric heated insoles is that it's less bulky than their socks counterparts. Yet, it can still provide the same amount of warmth (or even more sometimes) for your toes and feet.
Plus, the sizing is more exact than socks (thanks to the trim-to-fit feature).
However, some brands make the insoles too thick which will make you wish you should have just settled for the socks instead. The problem with having extra thick shoe inserts is that it might fit with one particular pair of shoes but won't do for other kinds.
The good news is that WINNA foot warmers are really thin and slim. That's why it can be used on a wide array of shoe types (winter boots, ski boots, hiking boots, etc). Here are the key features:
The thing about the RC feature in Winna's product is that it's not your regular push-the-button remote.
Instead, it has a screen that displays the actual temperature on the battery-heated insole. Because of this, you'll be able to precisely control the heat level so that your feet stay as warm as you want them to be.
Unlike other winter gear wherein you have to wait several minutes just for them to heat up, this one turns hot pretty quickly. In as fast as 10 seconds, you'll immediately start feeling some warmth in your feet.
And to top all that, this pair is packed with a microchip responsible for a temperature sensor. This means it will automatically stop heating when the safe heat level is reached. This prevents the item from overheating.
Where to Buy Them Online?
This product might be available on Amazon and The Warming Store.
Company: INKON
Heat Settings: 3-level controls
Sizing: cut-to-fit (US Size MEN 4 – 12, WOMEN 5.5 – 11)
Best for: Winter camping, skiing, hunting, cycling
✓Reasons to Buy:
For all kinds of activities
uses carbon fiber heating
wireless digital display remote
helps with blood circulation
thin lithium batteries
✗ Reasons to Avoid:
You can feel the wires underneath the longer you use them.
sometimes remote control doesn't respond
In the past warm feet and toes were just a dream for people suffering from poor circulation or even Reynaud's. Luckily, there are some go-to products today like INKON's product to help in keeping the right body areas warm.
The good thing about using foot warmers is that it directly heats up the parts that normally get cold – the toes and heel. With them on, you can continue your day-to-day activities outdoors without feeling extra chilly.
Key Features:
Most often than not, people look for heated gear that provides the most heat for several hours but pay little to no attention to the safety of those products. The good thing about Inkon is that they made sure you can use the product safely, even when it's pouring or snowing outdoors.
They use carbon fiber heating elements and these tiny heaters are packed in a 3-layer material. The top consists of velvet fabric for optimal comfort. The middle layer is made of TPE layer (breathable and elastic). And the bottom layer is an EVA wear-resistant sole where the batteries are also installed.
The design of Inkon's foot warmer is genius. Instead of having bulky batteries, they used Lithium and installed them inside the product instead. This makes it easier to wear anywhere and makes it more compact and portable.
Another notable feature of Inkon's product is its ability to heat up quickly. In a matter of seconds (5-10s), you'll start to feel the warmth seeping out from the electric-powered insoles. This promotes good blood circulation, perfect for those suffering from Reynaud's.
Where to Buy Them Online?
This product might be available on Amazon and The Warming Store.
Company: RIOMZA
Heat Settings: 104-150F (40-65C)
Sizing: small, medium, large
Best for: Winter outdoor activities, fishing, hiking, hunting, cycling
✓Reasons to Buy:
High-quality materials
Safe to use (passed safety standards)
Remote control with LED display
Waterproof but breathable
✗ Reasons to Avoid:
Battery drains fast
Not recommended for extremely cold temperatures
RIOMZA may not be as popular as the other brands on this list, but they certainly have products that will keep you warm and toasty during the winter season. They produce heated gloves, insoles, and other warmers.
One of their most promising product lines is the heated shoe insert. It has awesome features not seen in most average products. For a price under $80 it's one heck of a deal.
Here are the key features:
The topmost layer of the insole is made of soft velvet, keeping your feet comfortable all day long. This material helps provide proper insulation to keep the cold off. It's breathable, does not easily fade with washing, absorbs sweat effectively, and is highly bendable.
It's not that the entire foot warmer is waterproof, but the charging port is. This part is also rust-proof, which ensures it doesn't get damaged even when you accidentally expose it to water outdoors.
Not only that! The heating elements are enclosed in silicone casing, making them waterproof and safe to use as well.
Temperature control precision
You will be able to accurately set up the right temperature level on the insoles by using the wireless remote. Since it has a small LED display, you get to see how hot they already are or if you need to set it up a little bit higher.
Where to Buy Them Online?
This product might be available on Amazon and The Warming Store.
Company: AOLBIC
Heat Settings: 1 level up to 122F or 50C
Sizing: Cut-to-fit
Best for: Fishing, hunting, working, skiing, cycling etc
✓Reasons to Buy:
easy to use
one-size-fits-all
USB charging
washable and reusable
large heating area
affordable
✗ Reasons to Avoid:
one-level heat setting
charging cables are stuck on the insoles
battery drains fast
During the winter season, the temperature can be too harsh on the skin, especially on your hands and feet. It's good to invest in products that will help combat the freezing outdoor weather so that it doesn't get in your activities.
If you're looking for a budget-friendly yet functional foot warmer, then you should try this product from Aolbic. This is by far the cheapest item you can find on the list. Here are the key features:
But don't get me wrong. It might be the most affordable option, but it's not the least in terms of quality. In fact, it is a highly-rated product and it has the best value for money.
There's no hassle in using this insole. As long as it is properly charged, all you have to do is insert it in your shoes and you're good to go.
Because of its price, this product is often mistaken as disposable, but that's not the case at all. Even if it contains electronics inside, you can safely wash the insoles by hand. Just don't throw it into the washing machine so as not to damage the heating elements.
With this feature, you'll have clean and warm feet all day long.
This product can be charged via USB. That means, wherever you go, as long as you have a power bank or laptop, you will be able to charge the insoles to keep your feet warm. Although the battery life can be quite frustrating sometimes (they drain a bit faster than average battery shoe inserts), it's understandable given its price point.
Where to Buy Them Online?
This product might be available on Amazon and The Warming Store.
Company: Snook Ease
Heat Settings: none
Sizing: cut-to-fit (US Size 5 – 14)
Best for: Cold home and workplace
✓Reasons to Buy:
Easy to use
Clipping area around toes for a better fit
Extremely portable and handy
Thin and lightweight
✗ Reasons to Avoid:
Not battery-heated
Heating life too short
For electric shoe warmers, you'd expect them to run for at least 3-7 hours on average.
However, Snook Ease's product is very unique in this sense. It doesn't need charging, and it has no built-in batteries or electronics. Here are the key features:
Have you ever heard of microwavable foot warmers? If not, then you're not alone.
This product is very different from the heated shoe inserts we know of. Instead of recharging them using electricity, you can heat them up in the microwave. Yes, the normal microwave where you heat your cold pizza, dinner, etc. But don't worry! They come with a hygienic pouch to ensure your microwave stays clean.
Within 60 seconds, you'll be able to enjoy 30 minutes' worth of warmth.
Using this warmer is pretty straightforward. If you need it, you just have to throw it into the microwave, heat it up for 60 seconds, take them out, insert it into your shoes or boots, and you're good to go. The heat from the insole is gradually released, thereby allowing you to enjoy toasty feet for minutes.
Since it does not have any circuits or electronics, Snook Ease's insoles are ultra-thin and lightweight. It's perfect for those who don't want to wear bulky warmers. This feature also makes it perfect as a bedtime companion so your feet stay toasty under the sheets.
Where to Buy Them Online?
This product might be available on Amazon and The Warming Store.
Company: Torch Electrek
Heat Settings: 3 heat levels
Sizing: Medium – Large
Best for: Winter Sports, Hiking, Outdoor Adventures
✓Reasons to Buy:
Rigid and tough
Built for outdoor use
Can possibly withstand abuse and harsh weather conditions
Remote control
✗ Reasons to Avoid:
Battery life could be longer
Not the top quality compared to its counterparts
Outdoor activities and extreme cold weather sports are pretty exciting, especially if you got the right gear with you.
Before choosing your winter gear, you should consider the overall durability of the product. And of course, it should be able to keep up with whatever extreme activities you plan on doing.
Outrek II is the most coveted heated insole for people with an active lifestyle even during the coldest season. Its robust build is what separates it from other rivals. Here are the key features:
With this product, imagining warmth creeping all over your feet the moment you step on your shoes becomes a reality. By the time you switch it on, the heat starts flowing and you can instantly feel it around your feet. Thanks to the smart heating elements embedded between layers of soft and waterproof fabrics, your feet will not be as cold as it was before.
Trimmable to fit most boots and shoes
Although it comes in only two sizes, these insoles are trimmable. It means you'll be able to cut out unnecessary parts if it doesn't fit your boot. Also, the medium and large sizes are different for men and women.
The most amazing feature of this product is its built-in batteries. Have you noticed that most products on this list have separate battery holders that you cuff around the ankles or calves? With Outrek II, you won't see that extra piece of garment.
The 3.7V Li-Ion batteries are incorporated inside the heel of the insoles. But even with this, the foot warmer still feels and looks thinner than other products, which is just so great.
Where to Buy Them Online?
This product might be available on Amazon and The Warming Store.
Company: ActionHeat
Heat Settings: 1 – 3
Sizing: S – XL
Best for: Hiking, hunting, skiing, cycling, fishing etc
✓Reasons to Buy:
No wires that dangle
True to size
One of the best ski boot heaters
They're regularly updated
✗ Reasons to Avoid:
cost over $100
a bit of a challenge to put the charge cord in the insoles
ActionHeat is a really popular brand right now for winter gear. It may be pricier than other similar products, but it will definitely give justice to your investment.
When using this pair, you have the option to control the heat settings either manually on the insoles themselves or through a separate remote key mob. Either way, you'll still get what you paid for – warm and toasty feet all day long.
Here are the key features:
Usually, the average operating time of similar products only lasts for 6 hours max. But ActionHeat's foot warmer can last up to more than 8 hours. That's quite good enough to make you last a whole day outdoors. Plus, if it ever gets drained while you are still outside, you can charge it quickly for a couple of hours and resume using it afterward.
Unlike others, this pair doesn't come with separate battery packs. Instead, the thin Li-ion power supply is incorporated inside the insoles themselves. This makes the product look more sleek and chic.
Most of us want our insoles to be as comfy as possible, and that's not gonna happen if you feel wires all over them. ActionHeat made sure you're not going to have this problem since their heating elements are barely noticeable. Also, they are strategically placed under the toes where it gets extra cold most times.
Where to Buy Them Online?
This product is available on Amazon and/or The Warming Store.
Heated Insoles – Frequently Asked Questions
After looking at those recommendations, you probably have a lot of questions going through your mind, so let's answer them one by one.
1. Who makes the best-heated insoles today?
People always say not all products are created equal. Some offer a lot of comforts, some allow you to stay in style, and others do what they're expected to do – keep you warm.
Most of the time, you find these features individually in several products. But what happens when you see all of these amazing factors in one product? Well, that simply means they are your best options.
Here are the most trusted brands/companies in this area:
These are also great ski boot heaters (if you're into skiing and/or snowboarding). A lot of users can attest to this one. If you've purchased one of their products, you'll definitely see how high quality it is and how well these brands made it tougher than it's supposed to be.
2. How long do electric heated insoles last?
Since these kinds of insoles are battery-powered, it depends on how big the capacity of your power supply is. The bigger the mAh is, the longer it will last. That is the usual basis for how long these foot warmers will work. But that's not really all you need to know.
Actually, there are a lot of things to consider when talking about battery capacity or run time. The first on the list is whether it is rechargeable or disposable.
Normally, disposable batteries last longer. However, you only get to use it once. The moment it drains out, you need to buy a new one. On the other hand, rechargeable ones last about 2-10 hours on average.
But the good thing about this one is that once it goes out, you simply have to recharge it and use it again the next time. Another factor that affects the life of your insoles' batteries is the heat settings you normally use. The higher the temperature, the more it drains the power from the battery.
Just a piece of advice: if it is not really that cold, just turn on the lowest or medium heat level to conserve battery life.
3. Which is better: heated socks or insoles?
This is really just a matter of personal preference. But for the sake of discussion, let me tell you this: both have their own set of advantages and drawbacks. Let's talk about each one separately.
Heated socks are good if you are looking for something that will warm not only your foot but also your calves. This is perfect for outdoor strenuous activities like winter sports. The catch is that it usually makes your lower leg (and feet) sweat. But you can always look for products with moisture-wicking elements to help solve that problem.
Aside from that, heated socks also come a bit pricier than insoles. Those that are of tough and great quality are usually priced at a hundred bucks or so.
Check out this list with the top-rated heated socks right now.
On the other hand, heated insoles are more convenient to use. It is nice for people who are active throughout the day. This is what you should use if you think thermal socks don't provide enough warmth that reaches the toes and soles.
Since you normally wear regular socks before insoles, it gives you peace of mind (many of us fear getting electrocuted when wearing garments with electronics).
Plus, they are more affordable compared to socks. You can buy a good pair for half the price of an average heated sock, or much less.
Bottom line is that you get to decide which is the best choice for your specific needs. Nevertheless, these two will keep your feet warm and toasty during cold days.
4. How do you use thermal insoles?
Thermal insoles don't touch your feet directly. Instead, you step on them with socks on. Putting them on is pretty simple.
Just replace your shoe's original removable insoles with it (or you can just place it on top of that if you prefer it). Because of that, you can be sure that your soles and toes are warm all day long.
Before buying a pair though, you must know that there are 2 different kinds of battery-heated insoles available today with respect to the sizing. One is cut-to-fit, and the other is in regular sizing.
Let's talk about each one briefly.
As its name suggests, these kinds of heated insoles require cutting some parts to fit your actual shoe size (or whichever size makes you comfortable). It allows you to exactly decide how much space you want your shoe insert to occupy.
Although it is normal to want the insoles to fill the entire shoe floor, it can't be helped that there are some who want it just a little bit thinner and narrower, more like matching the actual foot size rather than basing on the shoes themselves.
As appealing as it may sound, there is a catch to this. You have to be extremely careful when trimming the insoles. The last thing you would want is to damage the heating elements inside it. As much as possible, follow the instructions that come with the pair when cutting. Most brands included lines to follow, so stick to them as much as you can.
This is the other kind I was talking about. It's like buying a regular pair of insoles that come in 5 – 11 sizes. These are the ones cut to standard measurements. If you're all about convenience, then this might be the right type of product for you.
The good thing about this type is that you don't have to worry about cutting through the tiny electronics because you can use it as it is. If you get the right sizing, all that's left to do is insert them into your shoes and you're good to go.
I admit though, that some brands don't offer true-to-size items, so be careful in choosing one. If you must, read more about the products (especially reviews from actual users) for true sizing.
5. When is the best time to use battery-powered insoles?
The beauty of electric heated insoles is that you can wear them anytime. Regardless of the season, you can put them inside your shoes if you want your feet to stay warm and dry. For normal days, you can leave the batteries off and just use them as added cushioning for your feet.
However, we all know that it's best to wear extra foot warmers during the coldest of days. But even the winter season got some ultra cold days and some days that are quite bearable. So, it all boils down to setting it at the right temperature depending on how chilly the day is.
6. Can you wash heated insoles?
Now, this is the most intriguing question that I got. Insoles can get dirty too, even if you wear socks before stepping on them. It's a good place for microbes to stay in because of the natural moisture that occurs when worn. That is why you need to regularly clean them to be safe.
Regular insoles are totally washable, but battery-heated ones? Well, kind of.
You can wash electric insoles, but you have to be extremely careful when doing so. And mind you, it is not fit for machine washing. If you must wash it, you should do it by hand. Afterward, you have to hang it out properly so that it gets dry thoroughly (and no wringing please!)
7. How do you measure thermal insoles?
This one is quite simple. You should measure it as you would with a regular insole.
Get a measuring tape, position it on the tip of the biggest toe, then pull it down towards the tip of your heel. If you are not comfortable doing that, you can simply trace your foot on a piece of clean paper and measure that instead. If you are still not confident about the sizing, compare the traced foot to the actual insole you wish to buy. 
The other heated gear/clothing you can check out:
Now…
Comment below what YOU think are the best heated insoles in the 2023 winter season to kick the cold away!