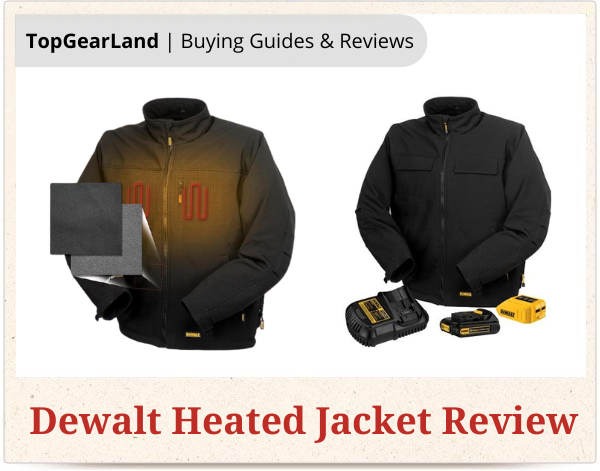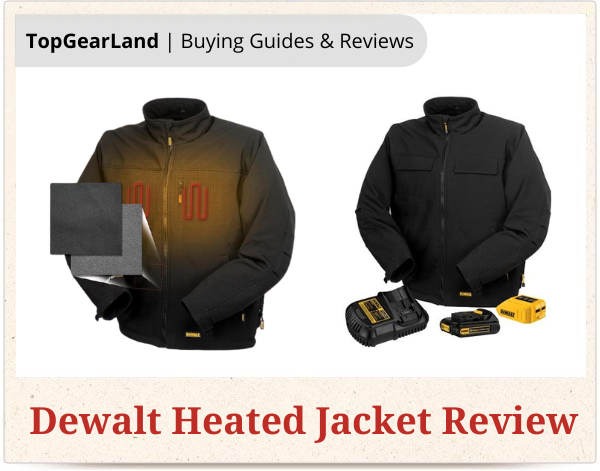 Welcome to my Dewalt 20V heated jacket review for 2023!
---
Look, working in a cold environment often affects the quality of your labor.
Admit it or not, you cannot focus on something when you have chills all over your body. That's why a lot of people have resorted to investing in battery-heated clothing to help fight extremely cold weather.
(Which is a really smart move, by the way.)
There are several hundred electric-powered jackets on the market today, but only a few of them are meant for everyday use and abuse, particularly battery heated jackets for WORK.
Now, is Dewalt 20V Max heated jacket one of those products? Is it worth buying? In this review, you will learn:
the key features of this jacket
why is it important to wear battery-heated clothing
pros and cons of Dewalt 20V
examples of other electric-powered gear you can invest in
Without further ado, let's get started.
---
Dewalt 20 Volt Heated Jacket Review: Summary
---
Brand: Dewalt
Product type: Rechargeable electric jacket
Materials: Soft shell polyester
Battery life: Up to 7 hours
Best for: Everyday work use, winter activities
Recommended: Yes
---
✓Reasons to Buy:
Lightweight
Decent battery life
Classic design
Neck warmer
Adjustable cuffs and waist ties
Soft and comfortable
Breathable yet weather resistant
Utility pockets
USB charging port
✗ Reasons to Avoid:
Battery and holder quite heavy and can sometimes be awkward
Requires a few seconds to turn the switch on
Dewalt is a very well-known industrial tool company all over the world.
Its history can be traced back to almost 100 years ago when Raymond DeWalt first launched their machine for woodwork.
Over the years, this company managed to expand so much, they already have too many products for the industry. In fact, the company was even able to create a separate product line for heated jackets, something that greatly benefits the entire construction and engineering industries.
Speaking of which:
Dewalt 20V Max is one of the most popular heated jackets they have right now. From what I've gathered, it does not only perform well in a cold working environment but also in any other type of outdoor cold weather activities.
Where to buy online? Check price & availability on:
---
Is Dewalt Battery Heated Jacket Worth It? Key Features
---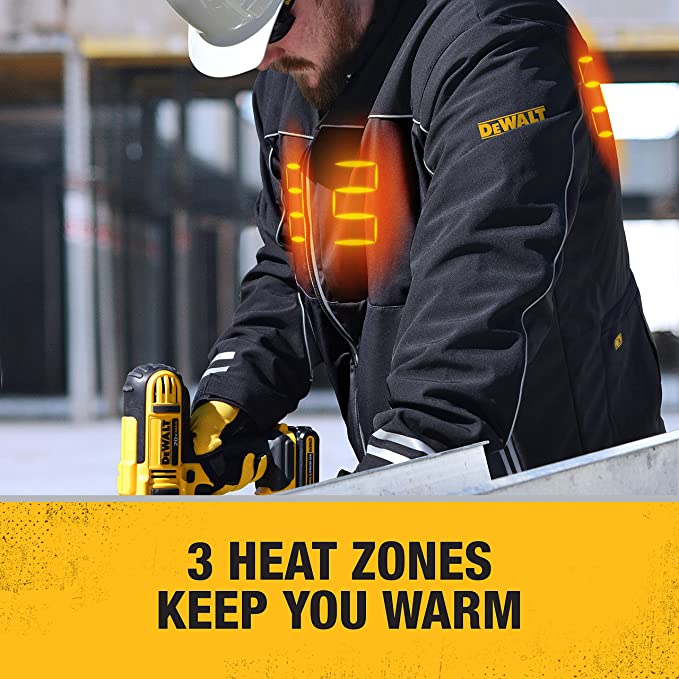 Below are the key features of this thermal jacket.
Design and Construction
The outer shell of 20V Max is made of soft shell polyester. This means it is tough enough to withstand harsh temperature and weather. But unlike other robust materials, this one is exceptionally not rigid. In fact, it is soft enough to make you feel comfortable even if you wear it all day long.
It gets better:
The outer shell is also wind and water resistant. It gives you additional protection from rain, snow and breeze. However, you should remember that this jacket is not waterproof, so it can only withstand accidental splashes for a limited period of time.
The reason why Dewalt decided to compromise a little bit of weatherproofness is to allow breathability, which is equally important in a heated jacket.
Heat coverage
This jacket has 4 different heat zones, promising a wider coverage. This is really good for people who easily gets cold. The more heat zones there are, the warmer it will be.
The first two heat zones are located at the left and right chest. This are two of the most vulnerable body parts when it comes to cold. And Dewalt really did a great job addressing that problem.
Another heat zone is strategically located around the mid-back region which is also very susceptible to cold. And the most surprising yet very helpful heat zone can be found on the collar. This will keep your neck warm and toasty even if you stay outdoors the entire day.
Battery Runtime
Battery life is one of the most important features you should check when choosing a thermal jacket. The reason for this is that it will determine how long you can enjoy using the product in one charge. Honestly, who would want a jacket that needs to be charged every 2 hours?
When it comes to battery life, Dewalt 20V Max heated jacket doesn't disappoint. On the lowest heat setting, it can run up to a maximum of 7.5 hours, enough to cover a whole day's work. It also comes with a pre-heating setting so that you can warm the jacket before you head out for work.
While it's true that this jacket can run for 7.5 hours, using it at the highest temperature will consume more power. That means it will be shorter than the maximum time stated.
USB Charging Port for Mobile
You know what I like about utility heated jackets? They really have multiple purpose, and with 20V Max, it's no different.
This model comes with battery packs that have two available USB ports. This serves as charging ports for mobile devices, especially smartphones. And what makes it even better is that this jacket has an inner mobile pocket that will hold your phone while you charge. Now, if you think that isn't a genius idea, I don't know what is.
Oh, and did I mention that you can still use the jacket (with heat zones on) while charging your phone? This thermal jacket really does a great job in multitasking. However, you should be ready to compromise battery life if you wish to use it simultaneously for those purposes.
Adjustable waist and cuffs
It's not just the rain or snow that makes winter cold. Most of the time, it's the wind that is to blame. Plus, they easily creep into any opening from the jacket so having this feature is really great.
The adjustable waist tie allows you to adjust the jacket so that it stays as snug as it should be. Also, the cuffs can be adjusted the same way too. This will ensure that the warmth from the heating elements stays inside the jacket, keeping you toasty and nice.
5 utility pockets
This is probably the most common difference between a work thermal jacket and an ordinary heated jacket. It has five utility pockets that can hold various tools and personal belongings. This way, you'll always have what you need within reach. It saves you a lot of time rather than going back and forth to get things from your bag or anywhere else.
Where to buy online? Check price & availability on:
---
Why Is It Important to Wear One at Work?
---
There are a couple of good reasons why you should wear heated jackets at work. To name a few:
No matter how much you think you love cold weather, your body tends to react differently. The human body can only take so much of the cold before you enter hypothermia. So, wearing this electric heated jacket will serve as an added protection.
Promotes continued productivity
If it's extremely cold, then your limbs will start to freeze in no time. When that happens, you can no longer expect to produce an output good enough for the day. To prevent that from happening, wearing a good body warmer like 20V Max is necessary.
Also, I encourage you to check out other battery powered products such as:
I also have a few other jacket reviews that you can check out, for example, Ororo heated jacket (not necessarily for work purposes though).
---
Dewalt 20 Volt Heated Jacket: Thoughts
---
All in all:
Dewalt 20V Max is a great product that serves its purpose well.
It has a classic design so it looks great with any outfit, both for men and women. Plus, it's not as costly as it seems. In under $250, you can have this decent body warmer and stay as toasty as you want to be the entire winter.
If you want to have a look at other heated clothing gear, check out the Bosch battery heated jacket review or this list of the best heated jackets for men & women.
What are your thoughts on this DeWalt battery heated jacket review? Any questions or suggestions?