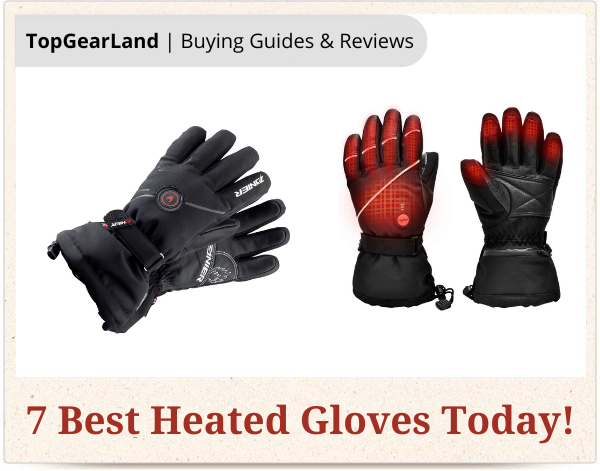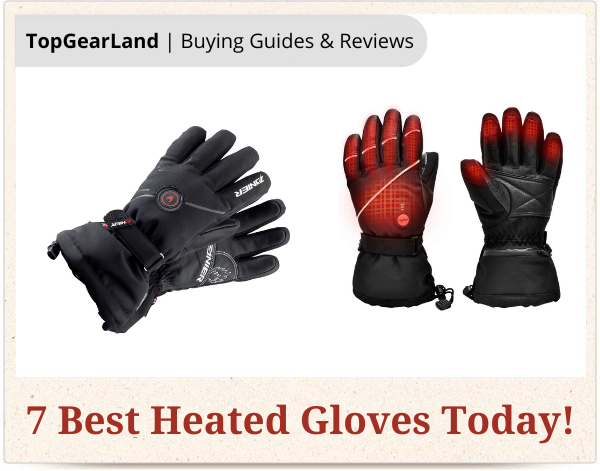 ---
My list of the best gloves for skiing & other outdoor activities. (Updated for winter 2023)
---
Here's the thing:
A few months ago I published a post about the best gloves specifically for adventurous cold-weather photographers.
However, I know that many of you are passionate not only about shooting landscapes in the snow but also winter sports like skiing, snowboarding, mountaineering etc.
So, if there are days when you decide not to bring your camera gear and just want enjoy physical activity only, I strongly encourage you grab a pair of special electric battery-powered gloves.
And this is exactly what I'll cover here, the top 7 best electric heated gloves in 2023 for men & women who like spending time outdoors in the cold. (That actually work.)
IF YOU'RE IN A HURRY AND JUST WANT TO FIND OUT WHAT THE BEST HEATED GLOVES (UNDER $200) ARE, HERE'S MY TOP PICK!
Now, here's what to expect here:
7 Best Heated (Ski) Gloves in 2023
You may ask: "Why heated gloves though?"
This is because they provide you with the ultimate warmth and comfort. It's not just some fun winter gadget. It's a product with an advanced technology that's designed to keep your hands toasty in the coldest of days.
Note:
When I review products, I look not only at the products but also the history of the company and how trustworthy the company itself is. Especially when it comes to electric heated gear since they are expensive and fairly new on the market.
(You'll also see my short buying guide and Q&A section after the list.)
Without further ado, let's dive in.
---
Materials: 40% leather, 60% polyester
Heat Settings: low/med/high (3)
Battery Life: 2.5-6 hours
Battery Type: 7.2V 2200mAh Li-ion (rechargeable)
Heated Area: Back & fingers (full length)
Windproof: Yes
Waterproof: Yes (water-resistant)
Best For: All things outdoors in the cold (popular among motorcycle riders)
---
If you are looking for a great price/quality ratio gloves that will ensure to keep you warm and comfortable whatever it is you do outdoors, consider ones made by Savior.
(As of winter 2023, this is my top pick that has a good price/quality/features ratio.)
First things first…
What makes these gloves so special?
Let's have a look:
The build quality and design are great.
The materials that Savior gloves are made of will ensure that you use them for many seasons to come and won't see signs of wear that you typically see with regular gloves. The construction also allows you to wear this pair in most winter days.
When it comes to winter gloves, construction certainly matters. After all, you wouldn't want to pay over $100 for a product that breaks down after a few uses, right? 
Oh, forgot to add: With these you will feel the heat within 30 seconds after turning it "ON".
Another crucial point when buying electric heated gloves is how weatherproof they are. Yes, they could warm your hand and fingers up but will that matter when the product isn't water-resistant?
I would be careful to call them completely waterproof, but Savior gloves definitely are wind and water-resistant.
If you happen to fall a lot in the snow (say during skiing or snowboarding), you may need to look for another pair, like Zanier Aviator GTX.
Also, these gloves are breathable, meaning that you won't have to deal with sweaty hands anymore. 
Battery life is one of the most important things to look at when buying heated gloves.
So, how long do these last?
Well, when it comes to Savior electric heated gloves (review), they last from between 2.5 to 6 hours, which largely depends on what heating temperature level you use the most.
So consider this when going out!
(Just so you know, products like these tend to have a light indicator so you know when to charge your battery and/or which heat setting you're using.)
Where to buy online? Check price and availability on:
My Final Thoughts
Savior products are one of the most popular brands in this space right now and for good reason. Their heated gloves can easily keep you warm in subzero temperatures, are comfortable, and offer great value for your buck.
Best of all? You get a 1-year warranty should anything go wrong.
---
Materials: Leather, polyester
Heat Settings: low/med/high (3)
Battery Type: 7.4V 2200mAh Li-ion (rechargeable)
Battery Life: 2.5-6 hours
Heated Area: Back, fingers (full length)
Windproof: Yes
Waterproof: Yes (water-resistant)
Best For: People with joint/circulation challenges; skating, fishing, hiking etc. 
---
Look: While Snow Deer is a brand that specializes in heated gear, I think their products are underrated.
Let's discuss what you might like/not like about these heated gloves.
These gloves are actually a lot like Savior.
They are made with polyester and leather materials, distribute the heat well throughout the hand and its far infrared heating elements can greatly help people with poor blood circulation, Reyanaud's, stiff joints and so forth.
They are also known to be touchscreen compatible, which not all gloves can offer.
The only thing you might keep in mind is that if you need extra dexterity, these might not be the best choice. For example, when hunting with a rifle. (And certainly not for photography!)
They are certainly windproof and have that strap and cuff drawcord to tighten them to ensure no wind/cold gets through.
I'll say this: If you're just walking the dogs, hiking, shovelling the snow or you simply need to keep your hands warm in the winter due to Raynaud's, then these gloves are great.
However, don't use these gloves in the rain or when dealing with a lot of snow on hands. These gloves have a water-resistant polyester but they are NOT 100% waterproof.
For this price you get a pretty standard battery life. From 2.5 to 6 hours depending on which of the 3 heating levels you're using.
(A light indicator will let you know when you'll need to recharge.)
If you like skiing/snowboarding a lot down the slopes and you need an extremely long-lasting battery, you might want to consider a high-end product like Savior or Zanier.
Where to buy online? Check price and availability on:
My Final Thoughts
As you can see, in many ways Snow Deer gloves are similar to Savior ones.
However, what you might like about them is that they have a touch sensor on thumb and index fingers, which make them touchscreen compatible (should you want to use your smartphone without taking off your gloves). 
All in all:
Snow Deer company offers one of the best battery-powered rechargeable gloves and mittens for the price.
---
Materials: Goatskin, amara fabric
Heat Settings: low/med/high (3)
Battery Type: Robust lithium-ion (rechargeable)
Battery Life: Up to 10 hours
Heated Area: Back, fingers (full length)
Windproof: Yes
Waterproof: Yes
Best For: Extreme activities in the cold (paragliding, long-shoring, mountaineering)
---
Look, when it comes to outdoor sports clothing and heating system gear, the Austrian brand Zanier is one of the most established in the industry.
Really, you could get any of Zanier's winter gloves and enjoy their high performance, but today I will talk about Aviator.GTX, the newest model. Let's discuss what's so special about them.
When it comes to Aviator.GTX model, there are premium features that are not seen in most glove products.
These include Primaloft insulation, special breathable lining as well as GORE-TEX membrane all of which combined make gloves shockproof, windproof, and waterproof.
Keep in mind:
The gloves were designed with paragliding in mind, so you won't see any Velcro fasteners and straps on these. (Hence the name "Aviator".)
Oh and they have a touchscreen capability too!
As I mentioned earlier, Aviator was made of finest materials and this by all means waterproof shells/membranes. If you are a fan of mountaneering, skiing and snowboarding, and enjoy flying at extreme heights, then this product is for you.
Again, this glove is the best of the best in terms of battery life too.
In fact, Aviator has a double battery capacity which means that they last longer. On paper, it says up to 10 hours at a low heating level. However, one of the folks in the forum swore that it can go up to 16 hours.
Read his comment below:

How awesome is that?
Where to buy online? Check price and availability on:
My Final Thoughts
As a rule, Zanier heated glove products offer exceptional features. The Aviator.GTX model technologies focus on the following 5 things: breath, flex, heat, touch, leash which truly make them one of the very best heated gloves (for men and women).
So, if you're looking for the high-end performance gloves in every way, Zanier Aviator.GTX should be at the top of your list of products to consider buying in 2023.
---
Materials: 92% Polyamide, 8% Elastane
Heat Settings: Low, medium, high
Battery Life: 2 – 10hrs
Battery Type: 7v Lithium-ion
Heated Area: Fingers, Palm
Windproof: Yes
Waterproof: Yes
Best For: Ski tours, snowboarding, other extreme winter activities
---
This item is perfect for those who want to engage in winter recreational activities such as skiing. In fact, it was designed for this specific purpose so the heating technology is quite excellent.
On regular cold days, keeping it at a low setting is enough to make your fingers warm. At the highest heat setting, you get to enjoy even the coldest weather.
Let's have a quick look on its features:
Design-wise, Hestra Power glove is excellent. It lets you move your fingers as if you're wearing a normal thin glove.
Even with it on, you can still grab your jacket's zipper, feel the insides of your pockets, and even grip ropes without a problem. And that's what makes this beauty all the more special.
Also, I'd like to commend Hestra for the unique construction of Power Heater. It has built-in heating loops unlike other cheap products. The coils are well distributed across the gloves to keep your hand warm and toasty no matter the weather condition.
Five layers of high-quality fabric makes up a Power Heater glove, so the weatherproofing capabilities do not come as a surprise to many skiers.
It withstands even the harshest weather and is highly durable. I've read some reviews where folks said they've used it 42 times in extreme conditions and it still works best.
The battery performance of this thermal glove is pretty decent.
As I mentioned earlier, on most cold days, you will only need the low heat setting so it lasts all day long while you're on the slope. If you need more heat, then it might only last from 5 to 8 hours.
In that case, it's highly advisable to bring spare batteries if you intend to stay longer in the cold.
Where to buy online? Check price and availability on:
Final Thoughts
Hestra is another well-established brand for winter gear and they never disappoint. True enough, their Power Heater products live up to that. Now, there are two things to keep in mind though:
The fit around wrist might be tight for some.
They are expensive. (It almost costs as much as one GORE-TEX jacket.)
If you don't want to shell out that much, you can check out the other products recommended here that are more affordable.
But hey, Hestra is Hestra guys (just saying).
---
Materials: Premium leather shell, fleece lining
Heat Settings: 4 levels (high, med/high, medium, low)
Battery Life: 2-8 hrs
Battery Type: 7.4V Li-ion
Heated Area: Fingers, thumb, back and palms
Windproof: Yes
Waterproof: Yes
Best For: Motorcycle riding, skiing, snowboarding, fishing
---
Titan is a popular innovation by Volt.
This product got good reputation among riders and adventure seekers during cold seasons. It does not only have a premium feel, but it also lives up to what it is advertised for.
Take a look at some of the things that make this pair special:
I admit, this product is quite pricey, but there's a really good reason behind that.
The outermost layer of the gloves is made with premium leather. This material alone provides 120g of insulation (which is probably why it still feels warm even without the batteries).
To ensure a much more durable and high quality product, Volt made sure to add extra layers of leather to the parts that easily wear out (especially on the palm side).
Also, the battery pockets are sealed with waterproof zippers to completely protect it from rain and snow.
There's no question about Titan's durability. Since Volt used rich leather, it can withstand constant exposure to harmful elements and harsh weather.
This is what you get for paying a hefty price for a pair of gloves.
(In fact, it is one of the fewest waterproof products in the $150-250 price range.)
Volt Titan has an average battery life. At the highest temp of 150F, you can use it for 2 hours or so. Meanwhile at the lowest heat setting, Titan warms your hands for as long as 8 hours.
Where to buy online? Check price and availability on:
Final Thoughts
Truth is, Volt Resistance Titan battery heated gloves are quite popular on the market, not only among motorcycle riders but also extreme sports enthusiasts. 
Now, in case you don't know this but $150-250 is a quite common range for a good pair of snow gloves and I think it's worth investing in it especially if you're very active outdoors in the cold.
I mean, it does have great features and is durable.
In the long run, you will be saving hundreds of bucks with this pair (since you can use it over a long period of time) instead of buying cheap ones and then shortly replacing them after a few uses.
---
Materials: 94% nylon, 6% spandex
Heat Settings: low/medium/high
Battery Life: 2.5 to 8hrs
Battery Type: Two 7.4V Li-ion Batteries (rechargeable)
Heated Area: Fingers, palm
Windproof: Yes
Waterproof: Yes
Best For: Recreational winter activities (skiing, alpine climbing, etc.)
---
Outdoor Research is a trusted brand and they don't disappoint.
This product line also performs well in terms of heating and dexterity. So you can keep your hands warm despite the cold weather conditions.
And yet, it's the less bulk heated glove option.
Let's take a look at its key features:
This pair is made mostly out of nylon, one of the best materials for a sturdy glove.
It also uses goat skin leather for the palm that gives it superior quality feel. Unlike cheaper battery heated gloves, OR Stormtracker is designed to have maximum functionality while still keeping your fashion sense in check.
And the best part about it?
OR uses touchscreen-compatible leather on the index and thumb finger for added dexterity. There is no need for you to take off the pair when you need to use your phones or touchscreen camera LCD.
When you are shopping for warm winter gloves, weatherproofness should always be considered. Outdoor Research knows this very well so they used the popular GORE-TEX technology for this item.
This innovation allows the glove to still be breathable despite being totally weatherproof. That's something worth noting about.
Another important thing you should consider is the product's battery life. No one wants to constantly stop and charge a glove (as if that's even possible) during alpine climb or ski tours.
Stormtracker pair has a decent battery.
With the various heat settings at low, medium, or high, you also get to choose how long the battery lasts. On the average, medium heat setting will drain the battery in about 3 to 4 hours.
Where to buy online? Check price and availability on:
Final Thoughts
This product is also quite popular.
This is because Stormtrackers are versatile and are one of the best lightweight battery powered gloves on the market right now. After all, not everyone likes bulky options.
It offers both durability and warmth to keep you going despite the coolest of temperatures. (Whether you enjoy motorcycle riding, fishing, and other activities in the cold weather.)
---
Materials: Polyester shell, fleece lining
Heat Settings: 3 levels (high, medium, low)
Battery Life: 4 to 10 hrs
Battery Type: 7.4V Lithium ion batteries
Heated Area: Entire back of the hands
Windproof: Yes
Waterproof: Yes
Best For: Winter sports, hunting, ice fishing, motorcycling
---
Let's face it:
Heated gear is pretty expensive. But there are a few options that are a great bang for your buck. Velazzio Thermo1 is one of those.
It uses smart power-saving technology to pre-heat the gloves at the highest level for 5 minutes.
This guarantees warm hands right from the moment you put on the gloves. After that, it will automatically pick the medium heat setting. You can easily adjust this one after the pre-heating state. Pretty great.
Now, let us go further into the features of this great item:
The exterior is made entirely out of highly durable polyester. This fabric is responsible for the pair's waterproofing capabilities. You wouldn't have to worry about rain and snow with this product.
Inside, there is a thin layer of fleece lining and Fan-tex fabric that lets sweat evaporate into the air, keeping your hands totally dry and warm. Because of these additional layers, this pair of snow gloves is warm enough even without the heating system.
And the best part about it?
The fingertips have touch screen compatibility. This means you still get to use your smart devices without removing the gloves.
Weatherproof gloves mean they are able to withstand constant exposure to harsh weather conditions (like snow, rain, extreme heat) yet still feel like brand new.
Being windproof, rainproof, waterproof means that the product can be exposed to these elements without being significantly damaged.
Now the question is: how weatherproof is Thermo1?
I've seen a lot of people commenting about how tough this winter gear is, and most of them are certainly positive. Made out of highly durable materials, you can expect this pair to last for several seasons without a problem.
Thermo1's battery life is honestly excellent. It surpasses most of the standard run time (8 hours on the lowest heat) for heated gloves.
Instead, it works even up to 10 hours on low and that heat level is what you'll mostly need on normal cold days (since even without the batteries it's still warm inside).
Where to buy online? Check price and availability on:
Final Thoughts
Who says thermal gloves need to be expensive for it to give your hands that toasty and comfy feeling?
Thermo1 is quite popular these days for two main reasons: high-quality materials and affordable price.
You see, it's hard to find a well performing winter gear with a price tag under $100. But Velazzio made it possible while still giving you a fully functional hand warmer to battle the freezing weather.
Many folks who've used the product will confirm that this is by far the best value for money ski gloves right now. At under $100, you really couldn't ask for a more functional hand warmer.
---
What Should I Look for When Buying Heated Gloves?
---
---
Let's face it, heated gloves can make your life easier, especially if you experience harsh winters wherever you are located. While the usefulness of electric gloves is undisputed the question which arises is, how to choose them?
What to look for exactly?
When doing your research, you will find that there are many options out there. You might even end up being overwhelmed, especially with heated gear being totally unfamiliar since it's rather new on the market.
That is why in here I'd like to provide a short buying guide so you know the parameters on which you should compare different heated gloves and make an educated buying decision.
Let's get started.
Battery Life:
The majority of the heated gloves use a rechargeable electric battery to power them that is responsible for generating the heat. However, it is essential to take into account the battery life of the gloves before choosing them.
The longer the battery life, the better it is. 
While in my list I mentioned battery types, don't make the mistake of endlessly comparing the battery specifications. They don't mean much.
It is important to look at the battery life to understand for how much time you can use the gloves consistently without recharging.
Ideally, you should opt for gloves that have a battery life of more than 3 hours at the highest temperature setting. (Logically, the battery life would be higher if you use a low heating setting.)
Construction & Design:
Another important point.
It is crucial that you look at the materials used to make the heated gloves. This will decide the construction quality as well as the durability of such gloves.
You can go with heated gloves, which consist of nylon, polyester, natural hides, and leather.  As a rule, these materials not only have naturally insulating properties but also are pretty durable as well.
The more expensive the product is the more likely premium materials were used.
Design also matters.
They should be such that they provide you with an excellent grip. Touchscreen capability is a bonus. Besides, it is better to choose gloves that have 2 to 3 different heat settings.
This way you can customize the heating operation of the gloves, which is a definite advantage. 
Weatherproofness:
You are most likely to wear heated gloves in inclement weather (which can refer to a rainstorm, snowy conditions, and so on).
That is why, besides the heated gloves being sturdy in construction, they also need to be windproof and waterproof.
In many cases, due to the materials in use, these gloves can resist wind and water.
However, you should not take this feature for granted.
It is better to double-check them before choosing the gloves that you are planning to buy. If the gloves consist of buckles or some other securing mechanism, that is a definite positive.
Also make sure that the gloves really are waterPROOF, not just water-resistant.
Price/Quality:
Are you looking to buy heated gloves within a specific budget?
If so, you have to shortlist the gloves within that budget. Only once you do so, you can compare them based on other parameters which we have mentioned in this article. However, you have to keep in mind that the cheapest unlikely will be the best.
In fact…
In the heated gloves world, you get exactly what you pay for. 
Generally speaking, when choosing the most affordable option, the battery life will be less, and also the level of insulation on offer will be on the lower side.
That is why you have to strike a balance between the price of the heated gloves and their quality.
Heated Area:
Did you know, the heated area can vary from one pair to another?
If you're going with budget heated gloves, chances are only the palms will have the heating area. And if you were to go for the high-end products, you would find that the palms, back of the hand as well as the the full length of fingers would be toasty.
While one is not necessarily better than the other but the option which you choose depends on your preferences and the type of activities that you do in the winter.
Many people feel that their extremes, i.e., the fingertips are always cold during the harsh weather.
In that case, you must go for more expensive and better quality model.
Again, you get what pay for.
Applications/Purpose:
Heated gloves can serve a wide variety of applications.
These can include but not limited to…
Hunting,
Working outdoors in the snow,
Day-to-day use like walking the dogs,
Skiing and snowboarding,
Hiking/camping/mountaineering,
Paragliding,
Riding a motorcycle, and so on.
(By the way, they are also very popular among motorcycle riders.)
However, not all can serve all of these functions. Not all of them are the same. In some cases you'd need more warmth. In some cases you'd need more dexterity.
When you know what activities exactly you need gloves for, your search for the right ones becomes easier.
Other Heated Gear to Check Out:
If you work outdoors or are an avid winter sports enthusiasts, then you'll likely want to maximize your chances of staying warm during long hours. Gloves aren't the only heated apparel on the market.
Here are other ways you can stay warm in the cold…
Now that you know the factors which you should consider while buying heated gloves, it is time to shed some light on the best brands and companies which sell such heated gear.
Let's see.
---
Established Heated Gear Companies?
---
I haven't mentioned a ton of products in this list but I am aware of the most reputable brands right now when it comes to gear with battery-powered systems.
Here are top 5 ones that I'm aware of.
Zanier:
Zanier is one of the most well-established brands when it comes to outdoor gear.
While they manufacture a large variety of outdoor equipment but their heated gloves certainly stand out. In fact, due to the efficiency of their heated gear, they have got media coverage as well, which clearly speaks volumes about their quality.
ActionHeat 5V:
ActionaHeat 5V is a brand that takes a focused approach when it comes to heated clothing.
It caters to this segment only.
Specifically, they manufacture heated hats, battery powered heated jackets, gloves and socks. The niche approach ensures that the quality of their products is at par with other top brands, if not better.
Hestra:
Hestra caters explicitly to consumers who are looking for ski gear.
But you will also find various pieces of heated gear, which include gloves as well. If you are looking for heated gloves for skiing specifically, you can go with this brand.
The reason why I was hesitant to include them in this list is because lots of reviewers on Amazon complained about their customer service.
And I take this issue very seriously. My personal mentality is that if a company doesn't respect me as a client, then I'm not willing to invest in their products. Period.
So, with this being said, I hope it'll be easier now for you to make an educated buying decision. Personally, I tried hard to provide you with the best of the best options and hopefully it'll be even more easier for you to choose the right product.
Either way, with most heated gloves you can be sure that your hands will be toasty for cold seasons to come and you'll enjoy the outdoor experience.
Anyway…
Below I will cover the FAQ or the possible questions people might have (if you have any further questions, just let me know in the comments below!)
---
Heated Gloves FAQ: Frequently Asked Questions/People Also Ask
---
---
Q: Are heated gloves worth it?
You may wonder whether heated gloves are any good, why invest in heated vs. regular winter gloves?
Heated gloves feature a battery-powered heating system, an advanced technology that outputs different levels of heat and therefore ensures that you're warm and cozy outdoors during those cold winter days.
These are especially useful if you like being outdoors for many hours, whether it's:
snowboarding,
skiing,
mountaineering,
ice fishing
riding a motorcycle
(And so forth.)
The good news is that the gloves listed here are powered with rechargeable batteries, so you don't have to always go out and buy new ones.
Because of that, they cost a lot more than your regular cold-weather gloves but it's the price you pay if you want to be comfortable doing activities in the winter.
Q: Are heated gloves safe?
Yes! Safety is one of the biggest concerns when buying these products. Let me put your mind to ease, heated gloves are absolutely safe.
(Unless, you start crazy things like exposing bare wires somehow, which I doubt you'd do.)
They are designed in such a way that:
gloves won't shock you should they get wet,
they won't catch a fire due to smart safety features built-in, and,
they won't burn your hands since the amount of heat generated is very low.
That's another reason why you'd want to buy heated gear from trusted companies who have a good track record and who focus on quality.
This is not the case where you'd want to buy a product as cheap as possible!
Q: Why are they so expensive? 
Like I mentioned earlier, for the kind of technology that you're getting to enjoy the winter sports, expect to spend at least $100 for a good pair.
What's the difference between $100 and $400 priced gloves?
Well, the high-end models heavily focus on:
waterproofness,
the heating area of the entire hand, including full length fingers and thumbs,
long-lasting fabric/materials/battery, etc.
Truth is…
When it comes to heated gear, you get what you pay for.
Q: Are heated gloves waterproof? Are they windproof?
Yes, most high quality electric gloves (especially the ones listed in this article) are windproof and most certainly water-resistant.
If you want to have a waterproof pair, make sure to invest in a high-end glove model.
Q: Are heated gloves touchscreen compatible?
Not all of them, but some do offer touch-screen compatibility. Mainly you'll find it in gloves that are more lightweight, less bulkier and have more dexterity.
With high-end rugged gloves it's unlikely that they would touchscreen-friendly. After all, their main purpose is to keep your hands and fingers toasty during extremely harsh weather conditions.
Which leads us to the next question…
Q: Can you use the heated gloves for photography? How's the grip and dexterity?
Technically you can, depending on what product exactly we are talking about but I think it would be a little risky. I'm certain you wouldn't want to drop your $3000 camera should the heated gloves not have good dexterity, right?
I know as a cold-weather photographer, you want to stay as warm as possible but there are a lot of other great alternatives available on the market.
For example:
The above links lead to my personal in-depth reviews of each of the product that I personally own and use.
Need more options?
Then check out this post on the best photography-optimized winter gloves right now that have good grip, flip back finger caps and great level of warmth.
Now…
While these winter gloves don't feature battery-powered heating systems, you can buy hand warmers and still enjoy (landscape) photography during cold winter days.
Q: Are there any heated gloves for kids?
As far as I know, they don't yet produce heated gloves specially for kids.
(Don't take my word for it though.)
Q: Is the whole hand heated or only the palms?
When it comes to heating area, really it depends on the model you model. Once again, you get what you pay for. Remember this.
Q: How to clean/maintain this kind of gloves? Are they machine-washable?
No! Heated gloves have special elements and wires in them that will be damaged. So, don't wash the heated gloves in the machine.
Just carefully clean the outer area lightly with a disinfectant, mild detergent, a dilution of soap and water, or simply scrub/spot-wash the areas that got dirty.
Please don't do anything drastic.
Q: Which of these products are available in the UK?
My main website audience is based in the United States, but the majority of you are based in the United Kingdom, so it's understandable you'd want to look for battery heated gloves for UK only.
To answer your question:
Because electric gear products are mainly sold online, the companies often offer shipping worldwide (especially when buying through Amazon platform).
Good news, if you click on my links, they should be directed to an Amazon store of YOUR country. So right away, you should know whether my recommended products are available on Amazon UK.
Now…
I took the liberty of checking whether indeed these battery powered gloves available in the United Kingdom, and the well-established companies like Zanier, Savior, Snow Deer are definitely there.
(Same is true for Amazon.ca Canada store, by the way.)
Q: Can I charge these in Europe on 200V?
I see no reason why these gloves wouldn't work in UK or Europe. Find the right power adaptor and you're good to go!
Q: What do you think of Autocastle products?
I know that Autocastle produces all kind of heated gear, from battery powered heated socks to hats.
The fact is:
Autocastle gloves is that they are on the lower-end in terms of price, so you may consider those, should you not want to pay from $200+ for another pair. But as always, do your research before making a purchase!
I'll say this. What I noticed is that my friend who's familiar with all things heated usually recommends other companies like Zanier, Savior or Snow Deer (and as you can see they ended up in my top list as well).
And based on Amazon reviews, the feedback is mixed. Some love it and some are deeply disappointed.
But hey! I don't own any pair of their gloves or had done any significant research, so please don't take my word for it.
Q: What do you think of heated gear by Outdoor Research?
Even though I haven't included them in my current list of products, I have heard of the company and I would say they are pretty decent. A colleague of mine tried them and was satisfied with their overall performance.
As far as I know they should be used in temperatures 20 Fº and above.
For example, Outdoor Research Stormtrackers (check them out on Amazon) are best for mildly cold winter.
Q: Do you have Zanier heated gloves reviews (Aviator GTX, Heat GTX etc)?
Unfortunately, I don't have individual reviews written on any of the gloves by Zanier.
But, if you really would like me to review some of the products, feel free to drop a comment under this article with a request. (I read and respond to all the real, non-spammy comments.)
Q: Do you have a Gerbing heated gloves review?
Unfortunately, I don't.
However, since I've decided to create this post/website on battery heated gear today, I might review Gerbing as well for outdoor activities like running, cycling, hiking, motorcycling, skiing or snowboarding.
One of the reviews that I have that you might be interested in is Heat3 Smart. They are not battery powered but they are certainly one of the best winter gloves on the market.
Hope you enjoy the read!
Q: Is there/do you offer an electric heated gloves discount code?
Just to be clear, I am not a dealer for heated glove companies not am I being sponsored to write this post. This being said, I can't personally offer you a discount code to any of the products I mentioned here.
There are 2 things that you can do though.
If you find a product that you really liked from this list, you could wait to see if there any discounts available during Black Friday/Cyber Monday weeks, or before the Christmas holidays. If I'm honest, I personally haven't seen the gloves going down in price, but it's possible you could save a few bucks during the major holidays.
Second option is to see if there are cheaper alternatives on Amazon that I haven't listed here.
Keep in mind though that in some cases a cheaper pair might mean worse quality and construction, so they might not last as long. So, in this sense it makes more sense to invest in a good pair of gloves right away.
Q: Can I find heated gloves near me, say Walmart, Costco or Home Depot?
You may have to check your local stores to see if they carry this kind of merchandise.
But as far as I know products like these are mainly sold online. If your local Walmart, BestBuy, Costco or Home Depot don't have heated gear, then I'd check their online stores.
I personally use Amazon to buy things because I can find good prices there, they offer fast shipping as well as good customer support.
By the way, be sure to sign up to Amazon Prime if you want a free and super-fast delivery on many things you buy.
---
Best Heated (Ski) Gloves for 2023: Thoughts?
---
Just so you know, I'll keep updating my list and Q&A section.
In the meantime, I'd like to hear from YOU:
What were your burning questions when looking for the best battery heated gloves?
Do you like any particular brand that you'd like me to review/add to this list?
What is your main purpose for buying this kind of garments?
(That is, simply keeping hands warm because your joints are stiff when walking the dogs or because you do long mountain hikes and it's a necessity?)
Any thoughts, questions or suggestions? Let us know in the comments below!
---