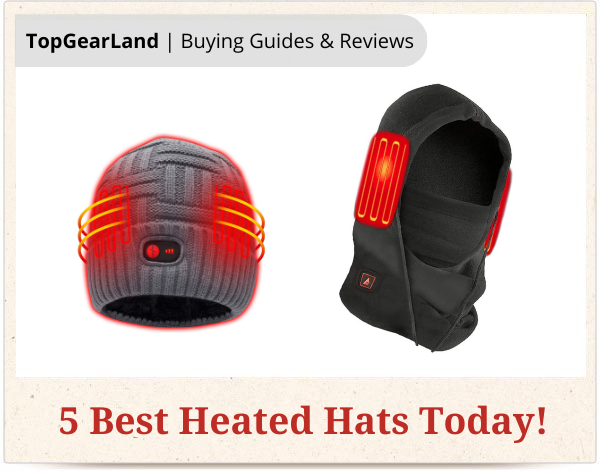 The 5 best battery heated hats and beanies in 2023 (for activities outdoors in the cold)
---
Look:
It doesn't matter whether you like cycling, skiing, hiking, snowboarding, hunting, fishing, or doing winter photography out in the cold… having the right headwear matters in every case.
If you happened to be one of those adventurous people who like outdoor activities, then this post is for you.
Specifically, I will be talking about the best rechargeable heated hats (and balaclavas) worth buying for 2023.
Why focus on heated/electric headwear though? 
This is because this kind of gear offers state-of-the-art technology that makes sure to keep your head and face warm during whatever cold-weather outdoor activities you participate in.
(There's a reason for their increasing popularity these days.)
IF YOU ARE IN A HURRY AND JUST WANT TO FIND OUT WHAT THE BEST HEATED HAT (UNDER $70) IS, HERE'S OUR TOP PICK!
Anyway, here's what to expect in this article:
Note that these products have practically no real cons and that's why I don't focus on them in this post. And yes, every battery-operated heated hat listed here is awesome! Without further ado, let's dive in.
---
3 heat settings
7.4V 2200 mAh Li-po (rechargeable)
battery lasts up to 6-7 hours
premium fleece material used
Note: Best price/quality ratio on the market for 2023
---
I'll be straight:
This is one of the best rechargeable electric hats available on the market right now. 
What will you love about this product as a cold weather photographer/outdoor enthusiast?
For starters, if you were to shoot landscapes in the winter and staying out for too long, then this hat with a large capacity battery would keep you warm for many hours.
In fact, when fully charged, it will produce heat for up to 7 hours!
I mean…
If you were a photographer, can you just imagine how many shots you'll take in those 7 hours, without being worried about your ears falling off from cold? (Same applies for winter work and sports.)
This beanie hat has 3 settings, meaning that you can switch between different temperature levels and adjust it to the one you're most comfortable with.
The fact that it is insulated only adds more protection and warmth for you. (Overall, it's stylish, versatile and comfortable to wear.)
As an avid photographer myself, I recommend this one to fellow cold weather photographers, but of course, winter photography isn't the only activity you could participate in with this thermal hat.
You can easily use it when:
hiking,
hunting and fishing,
skiing and snowboarding,
… and whatever other cold-weather outdoor activities that you enjoy.
Best of all?
It's fairly affordable and in my opinion offers the best value for your buck. Without a doubt, it's one of the warmest winter hats on the market right now. Read the glowing reviews on Amazon.
---
3 levels of heat
7.4V Li-ion (rechargeable)
battery lasts up to 3-7 hours
breathable and windproof
Note: In our opinion, it's the second best battery heated hat today
---
Well…
Choosing between SVPRO and Autocastle for the first spot on this list was tough. If we're honest, there are no major differences between the two.
Just like Autocastle beanie, the SVPRO has the necessary features you need to stay warm while shooting outdoors.
These include the following:
3 heat settings available that you can switch around according to your comfort;
this mid-level knit cap stays snug thanks to its custom fit elastic headband;
battery can work up to 7 hours.
The good news about the battery is that it takes about 2-4 hours to recharge, and heats fairly quickly when actually outside.
Now, depending on what heat temperature level you put it on, it's possible that the beanie works up to 3 hours instead of the full 7.
(Just keep this in mind.)
I'm fairly certain you're not interested in hearing the boring technical characteristics but bottom line is this…
The SVPRO battery heated beanie is windproof, fairly comfortable, and does the job of keeping your head warm for winter photographers and outdoor sports enthusiasts.
(Whether it's snowboarding, jogging, hiking in the mountains, fishing or shooting photos in the winter.)
Not to mention its quite an affordable price tag.
---
standard 3 heat temperature levels
7.4V 2200mah Li-polymer
battery lasts up to 2-6 hours
quick startup time, heats within 30 seconds
Note: One of our top 3 picks
---
Look…
While this product's battery works up to 2-6 (compared to the usual 3-7 that we saw before), it's just as good as the aforementioned ones.
The good news is that it has a quick startup time, meaning that within 30 seconds of turning that switch ON, you'll feel the heat coming in.
Savior/Sun Will heated fleece cap offers the same standard features that you'd find in all good heated hats.
Not to sound like a broken record but those include:
the ability to switch between 3 temperature settings,
the design of which involves knitted shell and fleece liners,
the hat producing hear up to 6 hours (once again depends on which heat setting you use and how fast the battery drains).
(Everything you need for a good winter hat with thermal capabilities.)
Also, it has a layer of far infrared fiber heating elements it ensures that you stay warm and comfy as much as possible. Because of that it increases blood circulation and helps should you experience constant headaches and migraines.
Now…
Whether you're into winter landscapes, hiking, adrenaline-fuelled sports activities, or simply doing everyday things outside, this hat option works. Very affordable too.
==> Click here to check the exact price.
---
3 heat temperature settings
7.4v Li-polymer
battery lasts up to 3-7 hours
thick hat (knit shell and fleece liners)
Note: One of cheap thermal hats worth considering today
---
So…
If you want a beanie that's a bit thicker than the first 2 mentioned earlier, have a look at QILOVE. (By the way, there are a few product options, and some of them are very stylish.)
What I like about this company is that they really work hard to keep their customers satisfied, whether it's the product itself or customer service.
(I personally will instantly leave the company if I feel that they don't respect me as a customer/person.)
Anyway, why should you consider this heated garment? It's nothing WOW-ing, but important.
Things like:
the presence of the standard 3 adjustable temperature levels
insulated and windproof (to keep your pretty head extra warm and cozy)
again, this depends on what heating setting you use – low, medium, or high – the rechargeable battery can work up to 3-7 hours.
Pretty awesome.
Just so you know, the main heating area is around the ears but for a bit, it spreads to the entire head area.
If you have migraines, Hashimoto thyroid disease, or simply poor circulation for whatever reasons, then using an electric-powered hat should really help you in the winter.
Last thing…
Like the first 2 options I mentioned here, this stylish beanie costs approximately the same and has no real cons that I could think of.
I think as a cold-weather photographer and/or winter outdoor activities enthusiast, you might enjoy this hat.
==> Click here to check the exact price.
---
machine washable
3 adjustable heat temp settings
6000 mAh 5V power bank (rechargeable)
lasts up to 4.5 hours
breathable, insulated and water-resistant
Note: A unique heated garment to protect your head, neck, and face
---
Listen…
I understand that you might be willing to go out in extreme winter conditions, so you'll need to cover more than just your head and ears. Or perhaps you're in the mountains, taking mountain shots with all the wind, snow and freezing cold.
The solution?
This ActionHeat 5V balaclava.
It's a unique versatile clothing that you can use however you want – as a hat, as a scarf, as a hood or as a balaclava to keep everything covered and protected from harsh winter conditions.
I'm sure you'll agree it's pretty awesome!
As usual you have 3 levels of heat that you can control, but also it offers it's wind and water protection which is an added bonus. Whether you are:
hunting,
ice fishing,
snow kayaking,
riding a snowmobile,
skiing or snowboarding down the slopes,
Or really anything else extreme that you like doing in cold-weather conditions, this heated headwear will protect you.
Now…
The only real downside is the battery life that's a little shorter – works up to 4.5 hours.
I think it has to do with the fact that this headwear covers more area than just regular hats. Also, the price tag might be a bit higher than what you saw before (understandably why).
But if that's not a huge problem for you, you'll probably just love it.
==> Click here to check the exact price.
---
Best Rechargeable Winter Heated Hats (2023)
---
Let's face it:
Choosing a photographer's hat for outdoor shoots isn't that hard, especially with the new options that we have available at our disposal.
Heated clothing (whether it's electric heated socks, hats, thermal gloves) offers a combination of advanced technology and practical uses.
You can also check out the list of the best heated vests and rechargeable winter heated jackets here.
Talk about the beauty of living in the 21st century!
Heated garments are Li-ion battery powered, meaning that you're all good when it comes to safety. If you choose headwear with an electric system, make sure you choose the ones that are safe.
It's no surprise why there's an increasing demand and increasing popularity for this kind of gear.
(Especially the battery-powered gloves for outdoor enthusiasts.)
I mean such products ensure that you're toasty and happy when out in the cold…
Without a doubt:
It's important you choose the right landscape and winter wildlife photography clothing or any other (sports) activities that you do outdoors.
And what are your thoughts on these rechargeable winter hats and beanies? Let us know in the comments!